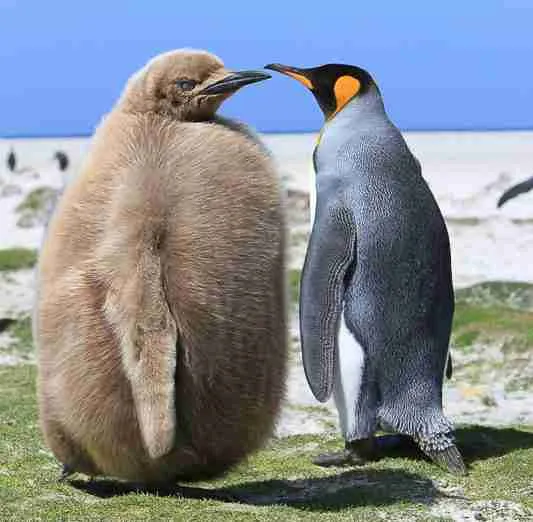 Have you ever seen a young penguin that looks like it has completely different feathers than the rest of the members in its colony? Did you think, "What's wrong with that one!?" Would you describe it as a "floof-ball"? If so, it would serve you to know that the floofiness factor comes from a special type of feather called "down" which is small, lightweight, and FLUFFY. For penguins, the down has a gray or brown coloration. In this article we will explore what makes this type of feather so special, and to show you that no, nothing is wrong with that penguin!
What are the types of down feathers in penguins?
In the grand scheme of down, you will find there are three different types. Regular body down is a layer of lighter feathers found situated underneath and around the external contour ones that we see with our naked eye, and all birds possess it. Down feathers are classified as afterfeathers and plumules. Natal down is the first type of feather a baby bird will get, and it covers the entire body. Powder down is created from feathers that disintegrate into an ashy, powdery substance to coat the feathers of a bird in order to keep it waterproof from rain or any other type of wet substance it may encounter. This type of down is found on birds who typically do not spend time going into water, so a penguin does not have powder down. (Instead, penguins and other water birds have a uropygial gland, also known as a preen gland, at the base of their tail that secretes an oil which is spread over their feathers during preening. This oil serves to waterproof their feathers in the same way powder down does for other birds.)
What types of feathers does a baby penguin have when it hatches?
Altricial or Precocial?
Penguins hatch from an egg with down covering their body, however they are not able to feed on their own or survive if they were to leave the nest/ brood pouch. This characteristic makes them "semi-altricial". An altricial bird is one that is not able to regulate the temperature of their own body, usually due to being completely or partially featherless. They are also heavily reliant on parental care for feeding. The latter is a particular reason why penguins are not considered precocial. While similar to precocial birds in that they are both born with feathering, a precocial baby will be able to fend for themselves or follow their parents around and to learn how to hunt within the first few weeks of life. On the other hand, as an altricial baby gets older, the down feathering thickens, and they are able to self-thermoregulate, but natal down is not waterproof, so until the penguin's body is mostly covered in contour feathers that can be waterproofed, the bird cannot go into the water or it could risk drowning and hypothermia. Since penguins hunt in the ocean, the babies must rely on their parents for food until eventually, the young bird is old enough to molt (when a penguin sheds feathers on its body and is restored with new ones) and the down is replaced with adult feathers.
What are the additional purposes of down feathers in penguins?
Down has a few different purposes; a couple of which we have already described when discussing powder and natal down. Looking at the third type of down, body down, an important purpose it serves is as an insulating agent for any bird of any age. This is especially important to penguins who live in the cold Antarctic regions! Additionally, body down helps with a penguin's movement in water. This help comes in the form of bubbles of air that are trapped in the down feathers and ultimately give the penguin buoyancy or allow it to zip through the water quickly. Sometimes in these high speed instances, a "trail of smoke" can be seen behind the penguin, which is really just the expulsion of those air bubbles from their down.
Down feathers for Human Application
Recognizing the special properties of feathers, humans have started research into creating a diving suit made of artificial feathers that would be more insulating and create less drag during underwater excursions. The fluffier down feather would be an important feature for both of those properties to exist. If this ever comes to fruition, we would be the silliest looking penguin there ever was!
Did you know you could get 'down' with penguins? Great info! Let us know what you think. And please help us continue to bring you this type of info by contributing to Penguins International.
Read some other information about penguins in more blogs:
Like our penguin blogs? Sign up for our newsletter to get them right in your inbox!
References:
Jan R. E. Taylor, Thermal Insulation of the Down and Feathers of Pygoscelid Penguin Chicks and the Unique Properties of Penguin Feathers,

The Auk

, Volume 103, Issue 1, January 1986, Pages 160–168,

https://doi.org/10.1093/auk/103.1.160

Starck, Johannes Matthias.

Avian Growth and Development: Evolution within the Altricial-Precocial Spectrum

. Oxford Univ. Press, 1998,

books.google.com/books?id=A0HB7Mq4lOYC&printsec=frontcover#v=onepage&q&f=false.

Williams, CL, Hagelin, JC, & Kooyman, GL. (2015). Hidden keys to survival: The type, density, pattern and functional role of emperor penguin body feathers.

Proceedings of the Royal Society B: Biological Sciences

, 282(1817). http://dx.doi.org/10.1098/rspb.2015.2033 Retrieved from https://escholarship.org/uc/item/0xs4w8d0