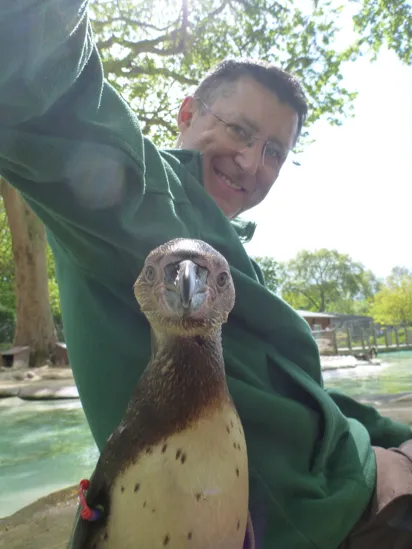 Penguin Pride – Same Sex Behaviour in Penguins
With June being LGBT+ Pride Month in many places around the world, it seems an appropriate time to write about some of the many documented examples of penguin couples that frequently display same-sex sexual behaviour (including courting displays, sexual activity and nest-building activity).
Before diving in, however, it's worth mentioning (given the potentially misleading title above) that the generally accepted collective noun for a group of penguins is not a (leonine) "pride", but rather a "raft" (if they are in the water), or a "waddle" (if they are on land).
Same Sex Behaviour in Penguins
Same-sex sexual behaviour has been observed in numerous penguin species, including King penguins at Berlin Zoo, African penguins at Toronto Zoo, Gentoo penguins at Sea Life Sydney Aquarium, and Chinstrap penguins at Central Park Zoo in New York. In the latter case, the relevant pair (Roy and Silo, both male) even successfully incubated another pair's egg, resulting in a chick named Tango. This in turn even resulted in a popular children's book called "And Tango Makes Three".
Same Sex Behaviour in Wild Animals
Such behaviour is not limited to penguins, of course: same-sex sexual interaction has been observed in hundreds of animal species1, in both zoos and in the wild. In some cases, this may be "sociosexual" behaviour designed at least in part to achieve a social goal (e.g. facilitating food sharing, forming alliances, reducing social tensions or facilitating reconciliations), as seen, for example, in bonobos2. In other cases, however, such behaviour appears to have no sociosexual element. For example, around 8% of rams in particular domestic sheep breeds seem exclusively to choose to mount other males rather than females when given the option3.
But back to penguins, and, in particular, Humboldt penguins (a species I observe on a near-daily basis, in the course of my work as a bird keeper at ZSL London Zoo). Zoo am Meer Bremerhaven in Germany has reported same-sex sexual behaviour in Humboldt penguins, and the same is true of our observations at ZSL London Zoo.
In this context, it's particularly serendipitous that the Humboldt penguin is named after the Humboldt ocean current (off the west coast of South America), which itself is named after the Prussian naturalist Alexander von Humboldt, who himself the evidence indicates to have been homosexual (or possibly bisexual).
Excluding recently hatched chicks, there are currently 93 penguins on Penguin Beach at ZSL London Zoo (77 adults and 16 juveniles). This number, along with the male/female split being broadly equal, means these birds have significant partner-choice. There are currently 34 nesting pairs, of which 3 are established same-sex pairs.
The first of these are Ronnie and Reggie (pictured, both 17 years old), a highly vocal and well-built all-male pair who certainly make their presence known on the far right-hand side of the beach, and who think little of barging other penguins out of the way at feeding time. (People with knowledge of the Kray Twins, who terrorised the East End of London in the 1950s and 60s, will appreciate the appropriateness of these birds' names). They do, however, also have a nurturing side: recently when another pair's egg needed incubation, Ronnie and Reggie took on the job, diligently taking it in turns to incubate the egg themselves.
Next up are Zimmer (21 years old) and Nadja (16), our only all-female pair (pictured). Zimmer also happens to be our oldest penguin: the species can live up to around 20 years in the wild, but can fare significantly better than that in zoos (due to better nutrition, better medical care, lack of predation, and the absence of negative human impact on their environment).
Martin (17) and Dev (13) are our other all-male couple (pictured), and tend to hang out on the left-hand side of the beach. We placed a new nest box in this area of the beach recently, and within a couple of hours this pair had abandoned their old nest box and established themselves inside the new one.
Finally, mention must be made of Rainbow (1) (pictured), who was named on the Pride Parade weekend around this time last year, and whose name was chosen specifically in honour of the LGBT+ community. She even sports identity beads on her wing reflecting this – the only penguin on the beach not to have a bead sequence that references its year of hatch. As Rainbow is still a juvenile, it remains to be seen with whom she may choose to form a pair-bond in the future.
Did you learn something new about penguins by reading this blog? A nice way to wrap up LGBT Pride Month. Let us know your thoughts. Also, please help us continue to learn more about penguins by donating to Penguins International.
Check out some of our other blogs, too:
Penguins International Newsletter
Sign up now for our newsletter and
get blogs delivered directly to your inbox.
References
1 Bagemihl, B. (1999). Biological exuberance: Animal homosexual and natural diversity. New York, NY: St. Martin's Press.
2 de Waal, F. B. M. (1987). Tension regulation and nonreproductive functions of sex in captive bonobos (Pan paniscus). National Geographic Researcher, 3, 318–338.
3 Roselli, C. E., Larkin, K., Resko, J. A., Stellflug, J. N., Stormshak, F. (2004). The volume of a sexually dimorphic nucleus in the ovine medial preoptic area/anterior hypothalamus varies with sexual partner preference. Endocrinology, 145, 478–483.
© Martin Franklin 2019
Martin Franklin is a bird keeper at ZSL London Zoo, and works extensively with Humboldt penguins. Any views or opinions expressed in this article are the author's own, and do not necessarily represent those of ZSL.