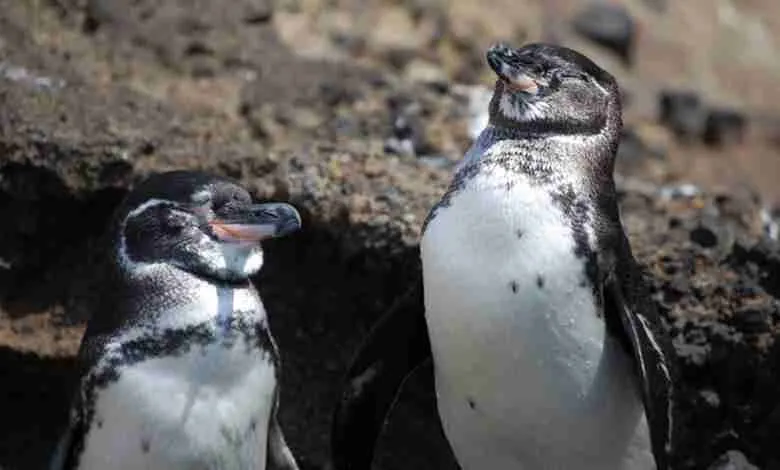 Galapagos Penguin Conservation
One of the most endangered species of penguin in the world is the Galapagos Penguin. They are endemic to the Galapagos Islands, and are the only penguins that nest entirely in the tropics. They can survive here due to the cool, nutrient-rich waters. Although they are related to the African, Humboldt, and Magellanic species who are all burrow-dwelling penguins, they have adapted their ways to living in caves and crevices in the coastal lava.
These penguins form strong pair bonds and remain with the same partner for their entire lives. Females will lay between one to two eggs a year, the eggs are incubated for approximately 35-40 days, and the fluffy dark brown chicks will fledge around nine weeks old.
How many Galapagos Penguins are left in the wild?
The estimated population size is only 1,351 individuals. This is because some are accidentally caught by fishers or invasive predators will kill them, but one of the biggest issues is climate variability. The population has fluctuated over the last 33 years, especially during the 1982-83 and 1997-98 periods where El Niño events occurred, causing the population to decline by approximately 60%.  During these events, water temperatures increase, making their food less abundant, which in turn affects the breeding success of pairs. Increasing occurrence and severity of El Niño weather events — due to climate change — is an enormous threat to the future of the Galapagos Penguin population.
Despite these threats, the population has been slowly recovering, thanks to the Galapagos Conservancy. Their aim is to reverse the decline of the population, and to strengthen it to a point where they can withstand threats like the El Niño events.
Conservation efforts are slowly helping the Galapagos Penguin populations
To do this, they have provided breeding opportunities by building 120 shaded nest sites constructed of stacked lava rocks. This is because there are limited nest options, old sites may no longer exist, marine iguanas may have overtaken them, or they may regularly flood. Because their ability to breed also relates to the unpredictability of food, Galapagos Conservancy want to ensure that when breeding conditions are good and food is abundant, all penguins have the option of a high-quality nest site to keep their eggs safe and cool from the sun.
Researchers will then monitor the population two or three times per year to determine the status of the population, and whether the human-built nest sites do, in fact, contribute towards the reproductive success of pairs when conditions are good and food is abundant.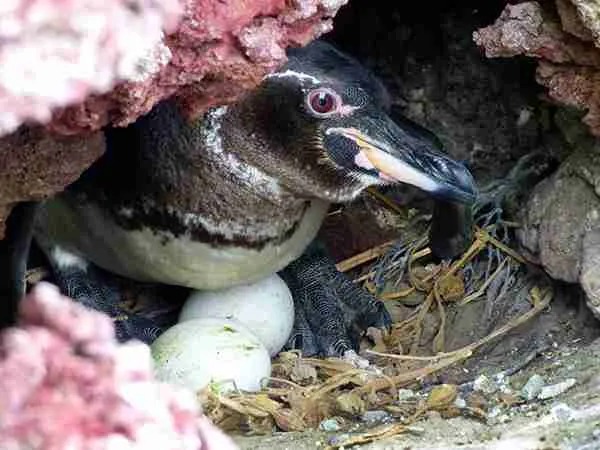 Adult penguin using an artificially constructed nest. (Photo
©
Dee Boersma)
The most recent monitoring trip in 2017-2018, observed several juvenile penguins in good condition, indicating a successful breeding season. These successful pairs were seen using both natural nest sites as well as constructed ones. Since the project began, almost a quarter of all penguin breeding activity has been observed using constructed nest sites – making it an incredibly beneficial method to use to in order to help increase the number of individuals.
Going one step further, the researchers are now pushing towards making a marine protected zone in Elizabeth Bay, a key area around the Mariela Islands that represents the highest density of breeding Galapagos Penguins. This will not only benefit them, but also other species such as seabirds, marine mammals, and fish.
Visitors can help Galapagos Penguin conservation efforts as well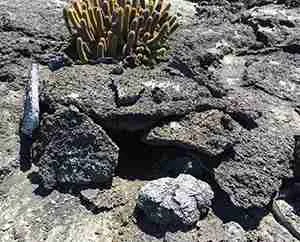 Artificially constructed penguin nest. (Photo
©
C. Capello)
Furthermore, they have established the Center for Ecosystem Sentinels, focusing on Galapagos and Magellanic Penguins. This encourages visitors to upload any photos of penguins they have taken on the island, in order to help provide useful data such as date and location of the penguins. As the database expands, it helps to determine when the penguins are moulting and help to keep track of when juveniles appear in the population.
Due to the endangered status of the Galapagos Penguin, any conservation initiative regarding preserving this species is vital to their survival, and without continuing the conservation measures that are already in place, the species could be at risk of being lost.
Don't you want to go see these penguins even more now to help their conservation? Please help us continue learn more about this type of information, and protect penguins by donating to Penguins International.
And, read more about penguins in some of our other blogs:
Like our penguin blogs? Sign up for our newsletter to get them right in your inbox!