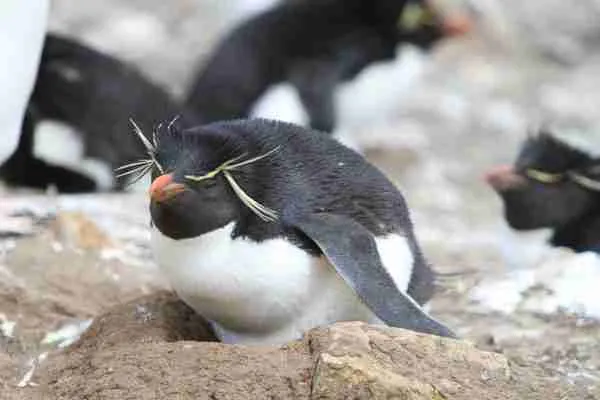 Why are we still lacking effective conservation measures for penguins?
Penguins are in trouble. Despite being loved by people and being the target of large amounts of research, many penguin species are currently classified in an endangered category. In order to protect these amazing birds, penguin conservation efforts need to be initiated, strengthened and supported.
Penguin conservation is imperative!
More than half of the 18 penguin species are considered to be in decline and their populations have not recovered since penguin conservation efforts began1. Even for those species that are showing positive signs of recovery, multiple threats still make their situation at jeopardy. 
To discuss and underline which are the most immediate conservation needs to protect penguins, a group of scientists working with penguins, the IUCN Penguin Specialist Group, held a workshop and has published their most relevant conclusions1. Following are some take home messages from this work. 
What are threats to penguins?
Using a pairwise ranking approach, the scientists ranked penguins according to the most pressing global threats existing at the moment for all species. This approach gave a ranking of those species that needed more conservation and research. 
Another ranking was done for those penguins that need the most urgent conservation measures and immediate political intervention. Either because they are species experiencing rapid population declines or species with extremely limited distribution ranges. Three species were at the top of the ranking: African Penguins, Galapagos Penguins and Yellow-eyed Penguins. 
Decreasing penguin populations
African Penguin populations have decreased since the early 1900s to only 21,000 pairs left. Their decline has been most likely caused by a lack of food as a byproduct of changes in climate and overfishing. Petroleum pollution and predation have had a major toll on this species as well. The IUCN Penguin Specialist Group has suggested that a network of Marine Protected Areas could offer protection for the majority of these birds, although the protection may not help during all life stages. 
Galapagos Penguin populations have suffered extreme number fluctuations, in relation to El Nino events. This species can skip breeding when food is scarce. That, in combination with limiting cavities for breeding, and the presence of invasive predators, has vanished any hopes of quick recovery. For this penguin with a very limited geographical range, the management of fisheries is crucial, since it will guarantee food at tough times. At the moment, less that 1% of the marine reserve around Galapagos is closed to fishing. 
The Yellow-eyed Penguin has suffered steep declines and currently only 1,700 pairs are left. This species faces several threats: introduced predators, environmental change and interaction with humans and fisheries. Managing these threats in conjunction could offer better perspectives for their future. 
Marine Reserves are the most powerful tool for penguin conservation
From all the measures discussed by the group of specialists, Marine Reserves were ranked as the most valuable tools for conservation existing to date. The creation of such reserves will allow management of several threats simultaneously, including those threats created by direct interaction with humans (i.e. tourism).  
But why has penguin conservation not moved faster in the last decades? The group agreed that most of the limitations are in relation to the penguin's biology and funding problems. 
Penguins are colonial long-lived species that can potentially move beyond a country's boundaries. This means that to effectively study them, long-term funding to follow individuals throughout their lives and international collaboration at many levels are needed. Such factors constitute the most limiting issues at the moment. 
Lack of long-term funding does not allow long-term monitoring of most populations. Moreover, due to practical reasons, most penguins are monitored only when they breed, leaving gaps of information about what they do in the non-breeding season. 
The non-breeding season, as well as the juvenile stage, are key elements to monitor, since it is at those stages that increased mortality occurs, which eventually would have consequences for population trends. 
Effective protection of international waters is also an issue. At the moment, only 2% of the ocean is protected, while the goal established by international agreements is to reach 30% of ocean protection. A goal that seems unreachable right now. 
To successfully protect penguins requires collaboration and communication between stakeholders: groups of scientists, legislators, NGOs, fisheries and local population. Without such collaboration, any ambitious conservation goal for penguins will not be reached. 
Action to protect our treasured penguins is needed now, because penguins are running out of time. It has become everyone's work to take action for the penguins and their future.
As you can see, there's still a lot of work that must be done to protect and conserve penguins. Please assist with our own conservation projects and help us continue to provide you this information by donating to Penguins International.
Read more about penguins in some of other blogs:
Like our penguin blogs? Sign up for our newsletter to get them right in your inbox!
References
Boersma, P. D., Borboroglu, P. G., Gownaris, N. J., Bost, C. A., Chiaradia, A., Ellis, S., … & Waller, L. J. (2019). Applying science to pressing conservation needs for penguins. Conservation Biology 10.1111/cobi.13378.