How Do Penguins Feed Their Chicks?
By Sian Liversage
It's easy to say that you can learn a lot from watching a penguin colony, from their hunting behaviours to how they raise their chicks. Many of us have watched documentaries of penguins incubating and hatching their chicks, but one thing that has always baffled me and many others, is how do they store food to feed their chicks? It turns out, the answer isn't as simple as you may think – there are multiple ways in which they care for their young as I explain below.
Penguins first must hunt for their food
All penguins hunt in the same way; they either catch their prey in the water or they can scrape krill off the underside of the ice. They do not have teeth, but instead have a very sharp bill to do this. Their mouths and tongues are lined with spines that point back towards their throat, making it easy for them to swallow prey such as squid, shrimp and fish.
Swallowing their food to store it for later
If a penguin has chicks, it will catch and swallow its food, then "store" it for later to feed to its chicks. Of course, some will also be kept for themselves to enable the parent to continue to survive and hunt for prey. Chicks cannot digest food like their parents, therefore, the parents need to convert it into a form that the chicks can eat. There are a few ways of doing this; the first way is regurgitation; the second way is the equivalent to "refrigerating" the food; and finally, the third way is a secretion that is made from the digested food.
Regurgitation
This is when a penguin will catch its food and partially digest it, which will take a few hours. When the parent reaches its chick, and the food has been digested enough, it will cough the mixture back up and allowing the chick to eat it directly from the parent's bill. This feeding method is often seen on documentaries so keep a lookout!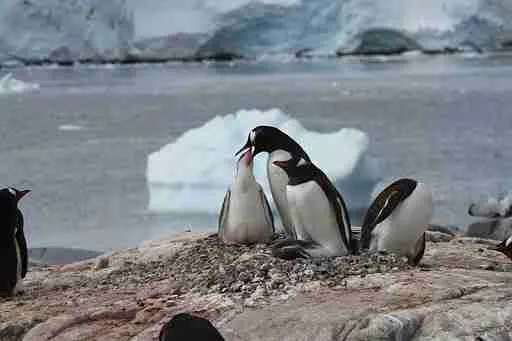 A Gentoo Penguin feeding its chick in Antarctica. Source: Penguins International Photo Library
A Gentoo Penguin chick getting a huge meal. Source: Penguins International Video Library
"Refrigeration"
This is a genius evolutionary method that enables penguins to keep food for several days. The parent will swallow the prey whole and store it inside their stomach. This food is kept at body temperature, and inside the stomach there are enzymes which prevent it from digesting.
Penguin "Milk"
When it comes to feeding their chicks, males and females will take turns. In some penguins, Emperor Penguins in particular, the male will care for the chick for several weeks while the female is out hunting and gorging on prey. During this time, the male produces a secretion to sustain the chick and ensure its survival. Penguins, being birds, don't have "milk" like mammals do.  Instead, they produce this secretion which is sometimes called crop milk. This is a fatty, high protein food that is developed in their crop (a pouch in their throat) and given to chicks during key developmental stages. Although it is nothing like mammal milk, the benefits of this crop milk are very similar to the benefit young mammals get from milk. 
Inside of a penguin. Web:
https://sciencing.com/penguins-feed-their-chicks-4567587.html
Conclusion
Chicks need constant feeding throughout their development in order to stay happy and healthy, and it can easily be said that without their parents' remarkable evolutionary techniques and physiology, the chicks would no doubt perish. 
Penguins have such a different way of feeding that so many other species. Let us know what you think.  And please help us to continue to provide you with penguin news articles by donating to Penguins International.
Read more about penguins in some of our other blogs: