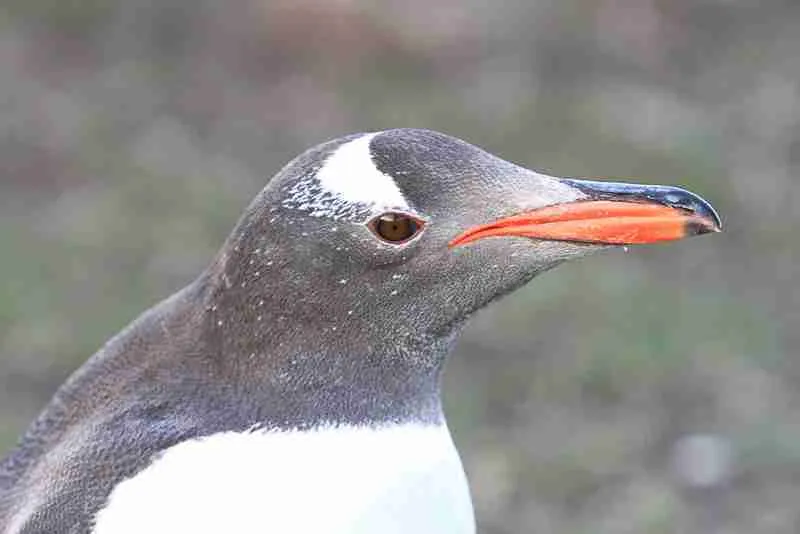 Can Penguins Smell?
By Abigail Pietrow, Penguin Keeper
There are lots of common questions that I'm often asked as a Penguin Keeper at the Aquarium of Niagara: "Can Penguins Breathe Underwater?"  "What do penguins eat?" "Why are penguins black and white?" It sometimes seems like the curiosity directed towards our flightless feathered friends is endless, but is generally directed towards some common topics from day to day. I was surprised this past week by an uncommon question that came from two different individuals within the span of a couple of days: Can penguins smell? In order to answer that question I had to do a little digging, and what I found was pretty interesting!
What do seabirds smell?
Up until the mid-1900s it was widely assumed that birds did not have a sense of smell. This belief was based on the results of a few small studies, differences in nasal anatomy, and the fact that the olfactory bulb in most bird species (the organ in the brain responsible for the sense of smell) was much smaller than that of mammals when examined. More recently, scientists specifically studying this sense in birds have uncovered a very different truth – many birds have a well-developed sense of smell.
Tube-nosed seabirds in particular (Order Procellariiformes), like Albatrosses and Shearwaters, have highly developed olfactory systems. These systems are tuned to search out dimethyl sulfide (DMS), a very particular compound released when krill consume phytoplankton. Krill is an important food source for many seabirds, and following the scent trail of this compound can help these birds locate patches of food in the vast distances of the open ocean.
Consequences of DMS (Dimethyl Sulfide) Sensitivity in Birds
Unfortunately, feasting krill are not the only source of DMS in our oceans today. Plastic and micro-plastic pollution in our oceans is an ever-increasing environmental issue. An analysis performed in 2015 extrapolated that if pre-existing plastic ingestion studies from 1962-2012 were conducted under current oceanic conditions, then the percentage of seabirds surveyed with plastic in their digestive system would likely be closer to 90% compared to the 29% from previous decades.
It has been theorized in the past that the basis for this phenomenon is primarily visual – that plastic is eaten when it is mistaken for prey species while foraging.
A study conducted in 2016 sought to investigate other explanations for why seabirds ingest so much plastic debris. They tested the three most common types of plastic found in marine debris and found that after only one month in the ocean, these samples were coated in a biological film that produced DMS at a level detectable by tube-nosed seabirds. Their results suggest that part of the reason seabirds are eating so much plastic is because it smells like food to them too!
Sense of Smell in Penguins
Tube-nosed seabirds are generally considered to be some of the closest living relatives to modern penguins. While these evolutionary relationships are still under investigation, penguins do share some of the same adaptations for smell as other seabirds. African Penguins have been shown to have a similar sensitivity to DMS, as well as being attracted by the scent of this compound both on land and at sea.
They posses a single nostril called a "nare" on either side of their beak, and while their olfactory bulbs are relatively small compared to other seabirds, the organ is still larger than many land-based bird species. This reduction in size is paired with a reduction in the amount of olfactory receptor genes in their DNA and likely a reduced sense of smell compared to other waterbirds. However, some scientists hypothesize that this reduction in reliance on smell correlates with evolution of other adaptations penguins developed to hunt effectively under the surface like spherical lenses and flattened corneas for improved underwater vision.
Sniffing out Friends and Family
Penguins may also use their sense of smell for another important task. While many have now studied how birds can use their sense of smell for important functions like navigation and foraging, one fascinating study looked at how Humboldt Penguins (Spheniscus humboldti) might use their sense of smell to recognize mates or family members.
The scientists used oil samples from the preen gland of penguins to test whether individuals reacted differently to the scent of unfamiliar penguins than they did to family or neighbors.  They found that the studied penguins preferentially investigated unfamiliar and non-kin smells when presented with a choice. This could have implications for how penguins avoid inbreeding when choosing a mate in their natal colony!
What action can you take?
While penguins seem to be less likely to ingest plastic at the same rate as other seabird species, ingestion is not the only risk that plastic pollution in our oceans poses. Plastic entanglement is an issue facing many marine species, penguins included.
African Penguin entangled in discarded plastic.

Source: Avery, 2018.
Reducing your use of single-use plastics is one of the most effective ways to reduce your plastic footprint and helps keep plastic out of the world's landfills and oceans! Instead of single-use items, reusable alternatives can be a planet-friendly way to make a difference for wildlife!
© Abigail Pietrow 2020
Abigail Pietrow is a penguin keeper at the Aquarium of Niagara, and works extensively with Humboldt Penguins. Any views or opinions expressed in this article are the author's own, and do not necessarily represent those of the Aquarium of Niagara.
Did you know that penguins could smell? Let us know in the comments what you found most interesting! Please help us continue to learn more about penguins by donating to Penguins International.
Like our penguin blogs? Sign up for our newsletter to get them right in your inbox!
References
Coffin, H R, J V Watters, J M Mateo. 2011. Odor-based recognition of familiar and related conspecifics: a first test conducted on captive humboldt penguins (Spheniscus humboldti). PLoS ONE 6(9): e25002. doi:10.1371/journal.pone.0025002
Dell'Ariccia, G., Phillips, R. A., Van Franeker, J. A., Gaidet, N., Catry, P., Granadeiro, J. P., … & Bonadonna, F. (2017). Comment on "Marine plastic debris emits a keystone infochemical for olfactory foraging seabirds" by Savoca et al. Science advances, 3(6), e1700526.
Lu, Q. et al. 2016. Penguins reduced olfactory receptor genes common to other waterbirds. Sci. Rep. 6, 31671; doi: 10.1038/srep31671
Nevitt, G A. 2008. Sensory ecology on the high seas: the odor world of the procellriiform seabirds. The Journal of Experimental Biology (211) 1706-1713. doi:10.1242/jeb.015412
Pinto, M. B., Siciliano, S., & Di Beneditto, A. P. M. (2007). Stomach contents of the Magellanic penguin Spheniscus magellanicus from the northern distribution limit on the Atlantic coast of Brazil. Marine Ornithology, 35, 77-78.
Ryan, P. G. (2018). Entanglement of birds in plastics and other synthetic materials. Marine pollution bulletin, 135, 159-164.
Savoca M, M E Wohlfeil, S E Ebeler, G A Nevitt. 2016. Marine plastic debris emits a keystone infochemical for olfactory foraging seabirds. Sci Adv 2 (11) e1600395. DOI: 10.1126/sciadv.1600395
Watanabe M, et al. 2006. New candidate species most closely related to penguins. Gene (378) 65-73. https://doi.org/10.1016/j.gene.2006.05.003
Wilcox C, E Van Sebille, B D Hardesty. 2015. Threat of pollution to seabirds is global, pervasive, and increasing. PNAS 112 (38) 11899-11904. https://doi.org/10.1073/pnas.1502108112
Wright, K L B, L Pichegru, P G Ryan. 2011. Penguin are attracted to dimethyl sulfide at sea. The Journal of Experimental Biology (214) 2509-2511. doi:10.1242/jeb.058230
Sources:
Averett, N. (2014). Birds Can Smell, And One Scientist is Leading the Charge to Prove It. [online.] Audubon Magazine. Available from: https://www.audubon.org/magazine/january-february-2014/birds-can-smell-and-one-scientist [Accessed 07 October 2020].
Avery, M. (2018). Guy Shorrock – Plastic Perils and Penguins. [online]. WordPress. Available from: https://markavery.info/2018/01/28/guy-shorrock-plastics-perils-penguins/ [Accessed 07 October 2020].