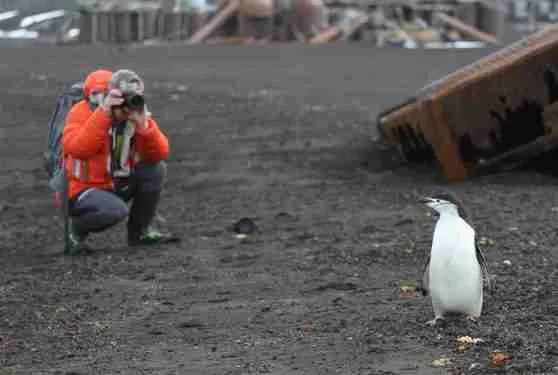 Wildlife Tourism – Is it affecting penguins?
by Georgia Podmore
Where can I go to see penguins on vacation? This is a common search phrase on internet search engines. There are a variety of countries around the world that have wild penguins and it may seem that no harm is caused from tourists travelling out to experience wild penguins in their natural habitat. With more than half of the species of penguins in decline – due to climate change, overfishing and habitat destruction – it is believed that through tourism the general public can be educated to understand how they may be able to help save the penguins. With thousands of people travelling to specific beaches to witness wild penguins, it should be questioned whether the penguins may be affected through the tourism industry in a variety of ways.
The term animal tourism is generally associated with negative connotations due to the fact that the majority of people link this to interactions with wild animals. However, this is not necessarily the case when discussing penguin tourism, meaning negative impact is often overlooked. When looking at recommendations to see penguins in the wild, it is common that the visit will consist of a guided tour with strict rules on keeping distance from the penguins and not touching them.
But the penguins are walking toward me!
As CNN quotes, "penguins can be extremely curious, therefore they may approach people" (Spanne, 2019). This is most definitely true, especially of younger juvenile penguins. Villanueva, Walker and Beterellotti (2006) investigated the habituation of Magellanic Penguins to tourists through observing behaviour and measuring corticosterone secretion. The research compared penguins that lived in a tourist-visited area with those in an undisturbed area and found that there was no obvious negative effect on the penguins from tourists.
However, tourists do have the potential to make penguins sick
Research carried out in 2018 found that bacteria from tourists can be passed on to penguins in a "reverse zoonosis" (Rix, 2015). This research focused on faeces of over 666 birds found in Antarctica. Researchers have now become worried that the consequences of tourism on penguins could lead to numbers declining rapidly if a disease is spread (Bollevich, 2018). Cullen and Busch (2009) also discovered that unmanaged tourism can negatively affect the breeding success and survival of Yellow-eyed Penguins, potentially as a result of causing stress. Elsewhere, another study revealed that King Penguins showed signs of stress around humans, whether that being tourists or researchers, due to the disturbance of their "homes," although it also found that once exposed to humans, the penguins become habituated to them (Rich, 1986).
So is tourism absolutely bad for penguins?
It is difficult to come to a concluding factor on whether penguin tourism has a negative effect on penguin health. When analysing research studies that have been completed, they all state a variety of different results, meaning that there cannot be a clear answer to the question. The only thing that can be stated is that it is the tour operator's responsibility to ensure that the penguins are affected as little as possible through human presence. 
As discussed earlier, there has been evidence to support the chances of spreading disease across colonies in Antarctica. However, this research has only been limited to this area at current times, meaning that it may not be the case across other species of penguins. Each point around the effects of tourism on penguins has discussed a variety of species, meaning that a reliable conclusion cannot be made on how tourism affects penguins. Further research would need to be conducted on a particular species. Varying factors should also be investigated, such as comparing penguin behaviours dependent on distance kept by tourists. Information like this can then be used to put into place a best practise guide for tour operators, as this will ensure that the penguin's welfare is affected as little as possible.
With 20%-40% of global tourism being animal attractions, it is understood that the income received via animals can have positive effects on the animals and local communities if used correctly (Action for ethical tourism, 2015). An example of how tourism has helped to save a species would be the tracking of gorillas across Uganda, Rwanda and Congo. There are strict rules put into place centred around tracking gorillas to ensure safety for tourists and animals. These types of tours have helped to increase numbers of mountain gorillas, with over 800 now found. Although research has produced data that proves tourists can pass on diseases to penguins, if strict regulations are put into place by tour operators, this should not cause any problems and can instead be a positive influence. 
The main aim of wildlife tourism should be to educate and conserve the species, with communication being a key factor in achieving success. If researchers piece together their findings and report this to local guides, then penguins should not be affected as much. Many tourists taking part in these tours are doing so because they want to witness an animal in the wild as it may be their last opportunity to do so. It is everyone's responsibility to ensure that penguin species do not become extinct, so actions must be critiqued and communicated to ensure that it is not our last chance to witness penguins in their natural habitat.
What are your thoughts on visiting penguins after reading this blog? Please let us know. And please help us to continue to provide you with penguin news articles by donating to Penguins International.
Read more about penguins in some of our other blogs:
Like our penguin blogs? Sign up for our newsletter to get them right in your inbox!
Action for Ethical Tourism (2015). Tourism Concerns. [Online] Guarantee (England). Available at: https://www.tourismconcern.org.uk/wp-content/uploads/2016/02/Animals-in- Tourism-|Web-Final.pdf [Accessed 30 Jun. 2019].
Bollevich, M (2018). Tourists may be making Antarctica's penguins sick. [Online] Science | AAAS. Available at: https://www.sciencemag.org/news/2018/12/tourists-may-be-making-antarctica-s-penguins-sick [Accessed 1 Jul. 2019].
Busch, J. and Cullen, R. (2009). Effectiveness and cost-effectiveness of yellow eyed penguin recovery. Ecological Economics, 68(3), pp 762-776.
Rich, V. (1986) Falkland Islands: Opinions divided on penguin deaths. Nature, 322(6074) pp 4.
Rix, J. (2015). Should tourists be banned from Antarctica? [Online] BBC News. Available at: https://www.bbc.co.uk/news/magazine-30709924 [Accessed 1 Jul. 2019].
Spanne, A. (2019) 5 places to see penguins in their natural habitats. [Online] CNN Travel. Available at: https://www.edition.cnn.com/travel/article/penguins-viewing/index.html [Accessed 30 Jun. 2019]
Villanueva, C., Walker, B. and Bertellotti, M. (2011). A matter of history: effects of tourism on physiology, behaviours and breeding parameters in Magellanic Penguins (Spheniscus magellanicus) at two colonies in Argentina. Journal of Ornithology, 153 (1), pp 219-228.