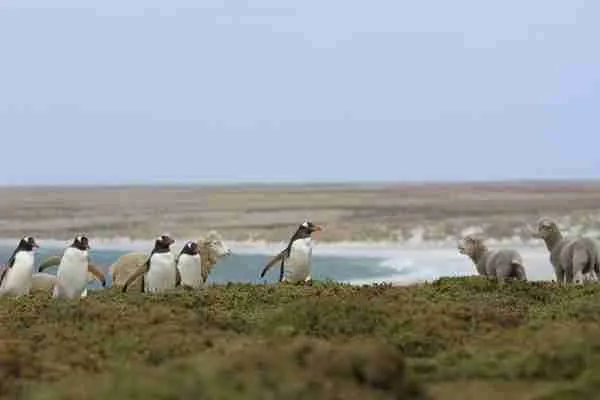 How Can You Help Penguins?
By Beth Storey-Jones
Threats to penguins
There are many threats to penguins. From toxic plastics, resource competition, habitat destruction to invasive species, these animals need as much help as we can possibly give them. First, we will look into the problem's penguins are facing on a regular basis and what can be done to help now and in the future.
Plastic pollution
In a 2015 study, Wilcox and his colleagues predicted that the concentration of plastics found in the ocean globally would be up to 580,000 pieces per km2 affecting around 186 different seabird species including penguins[1]. The two main ways that plastic effects wildlife is through ingestion and entanglement. Ingestion ranges in its effects, causing blockages in the gut and the leaching of toxins that eventually damage vital organs, which can lead to cancers and offspring birth defects[2]. Entanglement is just as fatal, with many species unable to free themselves from non – perishable plastics and discarded fishing equipment. Leading us onto the next threat to penguins: overfishing.
Image  1 : An African Penguin struggling to free his/her bill from a piece of plastic debris. This will inhibit his/her ability to eat, appropriately swim and even effectively breathe. (Source: Avery, 2018).
Competition for resources 
Penguin diets consists almost exclusively of fish. According Trathan, et al (2014), there is currently a shortage of studies that investigate the relationship and interactions that occur between commercial fishing and the effect on local penguin populations [3]. One of these such studies by Crawford, et al (2011) looked into the collapse of populations of penguins in South Africa. They found strong evidence to suggest that both the fishing industry and environmental instability played a part, with the penguins substituting sardines for nutrient lacking pelagic gobies [4]. Anchovies were also a staple for penguins in the past, but they also fell victim to overfishing when the sardines disappeared from the area during the 1060's [5]. 
Encroachment and habitat degradation 
Chile is home to 80% of the world's Humboldt Penguin population. An interesting Oceana- commissioned study found that nesting sites were being threatened by the creation of 2 open pit mines. To protect the species, Oceana Chile partnered with other NPOs (non-profit organisations) and the concerned Chilean community to oppose the development that would increase pollution and oil spills as well as create noise pollution, habitat loss and encroachment [6]. 
A lesser known issue for penguins is habitat degradation, caused by invasive or domestic species. An example of this can be seen in the Falkland Islands, where livestock is damaging vegetation cover for penguin chicks, which can be fatal during rainfall [7]. Large populations of grazing rabbits also have had this same effect on Macquarie Island, but more substantially their over-consumption of the land has led to major landslides decimating breeding grounds. The invasive species crisis isn't a modern problem. It can be seen dating right back to the 1600's when whalers and other sea dwelling humans introduced species such as black rats to the Galapagos Islands. A couple of hundred years later when the island's human population increased, domestic animals such as dogs and pigs where also introduced, as well as cats. Records state that one cat that inhabited Isabela Island increased adult penguin mortality by 49% each year! [8]
Image 2: Penguins often have to share their habitat with farmland. (Source: Penguins International photo library)
The Climate Crisis 
How climate change directly effects penguins is still being researched. However, studies into how their environment is affected both in the short term and in the long term is extensive. 
Increased snowfall as a result of warmer conditions is contributing to Adelie chick mortality in Antarctica [9]. Similarly, an increase in storm frequency in Argentina has resulted in increased reproductive failure in Magellanic Penguins [10]. Southern Rockhopper Penguins are declining due to the decrease in condition of parent penguins, due to lacking food resources, resulting in low survival success of hatchlings [11]. 
Image 3: Sadly, Adelie chicks are starving while parents struggle to find food. (Source: Griffin, 2017).
So, what can you do to help…?
It's pretty tricky to know how you can directly help penguins, especially when they live in remote parts of the world. But there are lots of ways you can help to create a healthy environment for them to live in. And you can do this without spending a penny (even saving a bit in some cases!) These include: 
Ensure any fish you purchase is from sustainable, well managed fisheries 

Cut back on products packaged in plastic or plastic-based items

Make sure you are recycling whenever you can and disposing of other waste correctly. 
To help with the climate change crisis, you can: 
Reduce the meat you eat 

Buy less, especially if it is unnecessary 

Using public transport where possible 

Arguably one of the most important points, use your voice! Support your politicians and community in their battles to strengthen climate change science. 
You can also help in other ways, such as supporting Penguins International directly by:
Donating to one of the "Help Penguins Now" causes. 

Create a free "Facebook Birthday Fundraiser"

Adopt-a-Penguin (a perfect gift for a penguin loving friend or family member!) 

Donate to the "Penguin Clean Up Fund"

Become a sponsor
What did you learn about all the threats to penguins and the simple things we can do to help? Let us know.  And please help us to continue to provide you with penguin news articles by donating to Penguins International.
Read more about penguins in some of our other blogs:
Like our penguin blogs? Sign up for our newsletter to get them right in your inbox!
Reference List
Wilcox, C., Sebille, E., and Hardesty, B. (2015). Threat of plastic to seabirds is global, pervasive, and increasing.

Proceedings of the National Academy of Sciences of the United States.

112 11899-11904 

Derraik, J. (2002). The Pollution of the Marine Environment by Plastic Debris: A Review.

Marine Pollutant Bulletin

. 44, 842-852. 

Trathan, P., Garcia-Borboroglu, P., Boersma, D., Bost, C-A., Robert, J., Crawford, R., Crossin, G., Cuthbert, R., Dann, P., Davis, L., De La Puente, S., Ellenberg, U., Lynch, H., Mattern, T., Putz, K., Seddon, P., Trivelpiece, W., and Wienecke, B. (2014). Population, habitat loss, fishing and climate change as critical threats to penguins.

Conservation Biology

. 29, 31-41

Crawford, R., Altwegg, R., Barham, B., Barham, P., Durant, J., Dyer, B., Geldenhuys, D., Makhado, A., Pichegru, L., Ryan, P., Underhill, L., Upfold, L., Visagie, J., Waller, L., and Whittington, P. (2011). Collapse of South Africa's Penguins in the early 21

st

Century.

African Journal of Marine Science

. 33, 139-156. 

Ludynia, K., J.‐P. Roux, R. Jones, J. Kemper, and L. G. Underhill. (2010). Surviving off junk: low‐energy prey dominates the diet of African penguins Spheniscus demersus at Mercury Island, Namibia, between 1996 and 2009. 

African Journal of Marine Science

 32:563–572.

Oceana, 2017.

Oceana reports severe flaws in the environmental proceedings of Dominga and requests rejecting the project. [online].

Oceana. Available from: https://oceana.org/press-center/press-releases/oceana-reports-severe-flaws-environmental-proceedings-dominga-and [Accessed 10 December 2019]

Demongin, L., Poisbleau, I., Strange, J., and Quillfeldt, P. (2010). Effects of severe rains on the mortality of southern rockhopper penguin (Eudyptes chrysocome) chicks and its impact on breeding success. 

Ornitologia Neotropical

. 21,430–443.

Tasmania Parks and Wildlife Services. (2013). 

Macquarie Island pest eradication project. [online]

. Tasmanian Government. Available from: https://parks.tas.gov.au/Documents/Evaluation_Report_Macquarie_Island_Pest_Eradication_Project.pdf [Accessed 10 December 2019].

Ducklow, H., Baker, K., Martinson, D., Quentin, L., Ross, R., Smith, R., Stammerjohn. S., Vernet, M., Fraser, M. (2007). Marine pelagic ecosystems: The West Antarctic Peninsula. 

Philosophical Transactions Royal Society Series B.

 362, 67–94.

Boersma, P., and Rebstock, G. (2010). Effects of double bands on Magellanic penguins. 

Journal of Field Ornithology

. 81, 195–205.

Crawford, R., Makhado, A., Upfold, L., and Dyer, B. (2008). Mass on arrival of rockhopper penguins at Marion Island correlated with breeding success. 

African Journal of Marine Science.

 30, 185–188.
Images 
Avery, M. (2018)

. Guy Shorrock – Plastic Perils and Penguins. [online].

WordPress. Available from: https://markavery.info/2018/01/28/guy-shorrock-plastics-perils-penguins/ [Accessed 10 December 2019].

Farmers Weekly. (2018

). Farming on the front line: Sheep in the Falkland Islands. [online]

Farmers Weekly. Available from: https://www.fwi.co.uk/international-agriculture/farming-front-line-sheep-falkland-islands [Accessed 10 December 2019].
3. Griffin, A, 2017. Thousands of tiny baby Adelie Penguin starve to death as changing weather forces parents to travel for food. [online]. Independent. Available from: https://www.independent.co.uk/environment/baby-penguins-adelie-global-warming-climate-change-wwf-chicks-dead-parents-a7997396.html [Accessed 10 December 2019].