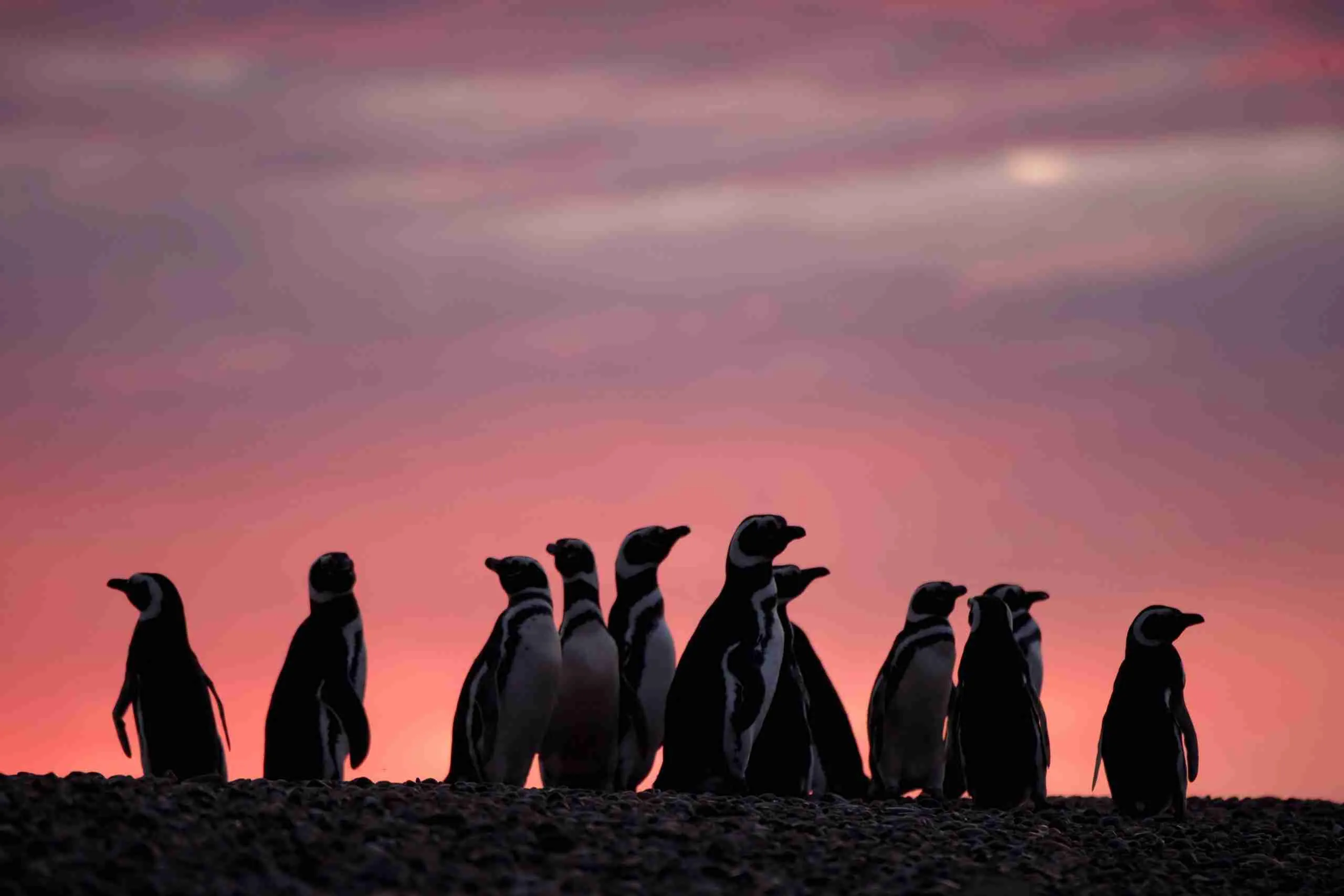 The Penguin Glow: Penguins Teach Us about Hope and Resilience
By Charles Bergman, author of Every Penguin in the World: A Quest to See Them All
My wife, Susan Mann, and I were sitting on a chunk of ice on the shore of Neko Harbor on the Antarctic Peninsula. A light snow was falling. We had stopped here to watch a Gentoo Penguin sitting on an egg in its nest of pebbles.
The penguin rose to its feet. Its bright orange beak pointed to a small hole in the egg. We could see the tip of the chick's beak. A penguin was hatching.
It seemed almost miraculous. In this harsh climate—one of the most unforgiving places on earth—we watched as this tiny chick emerged from the egg.
For seventeen years, my wife Susan and I traveled throughout the Southern Hemisphere on a quest to see all eighteen of the world's species of penguins in the wild. Our journeys took us to some of the wildest and most remote places on the planet. This was one of the most memorable moments in our quest because it embodied something at the heart of the appeal penguins have for us.
Penguins offer living lessons in hope and resilience.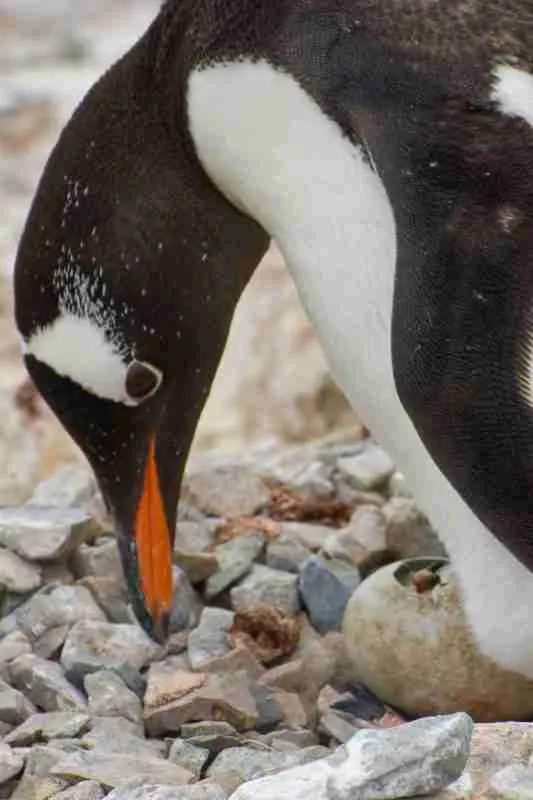 Gentoo Penguin with its chick hatching from an egg
Photo credit: Charles Bergman
We find ourselves slouching into a new year. Weary, worried, and burdened, we are living through a dark time of an out-of-control virus, the violence in our presidential election, and a planet careening toward disaster. Penguins are one of the best antidotes to despair that I know.
The most beloved birds in the world, penguins can help provide hope and relieve the gloom in three ways: through an intimate connection to wild animals, the transformative power of awe and wonder, and the healing effects of laughter.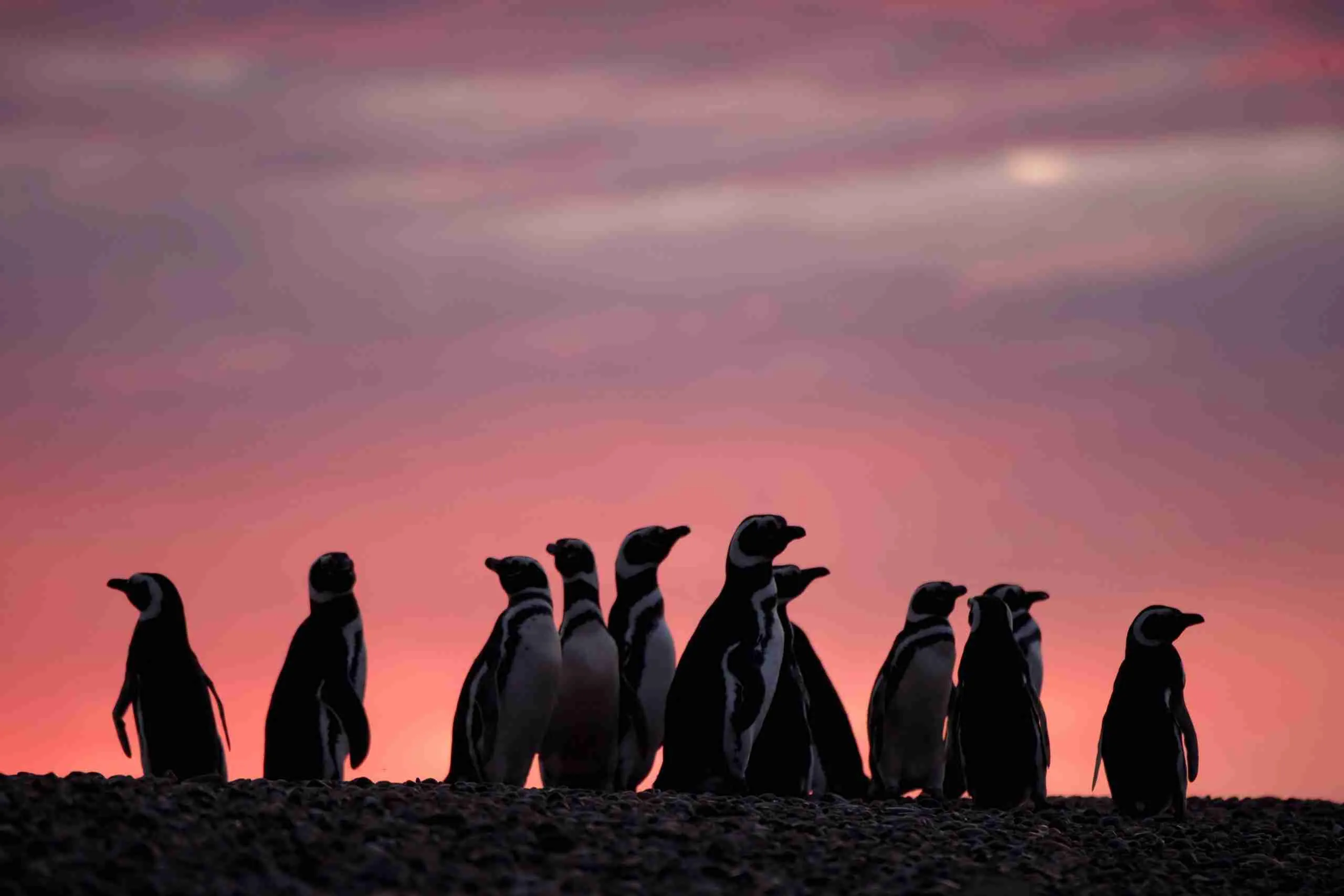 Magellanic Penguins gathering together at dusk at El Pedral Reserve, Punta Ninfas, Argentina.
Photo credit: Charles Bergman
Lesson 1: An Intimate Connection to Wild Animals
One of my favorite places on the Antarctic Peninsula is Port Lockroy. Founded as a British research station, it now also has a gift shop and post office. You can mail post-cards from here that will travel through the United Kingdom and on to your friends and family, bearing an Antarctic postmark. Research on the Gentoo Penguins is on-going and long-term.
Penguins are everywhere. Several are nesting under the porch. Some are standing on the porch. You will encounter them on the path. The penguins always have the right of way.
The last time I was at Port Lockroy, three pairs of penguins were nesting on a large rock near the entrance to the building. They were right next to the path and at eye level on the rock.
Each nest had two chicks. It was a great place to linger and watch the penguins interact with their chicks. It was an intimate encounter, a chance to linger and enter into their world.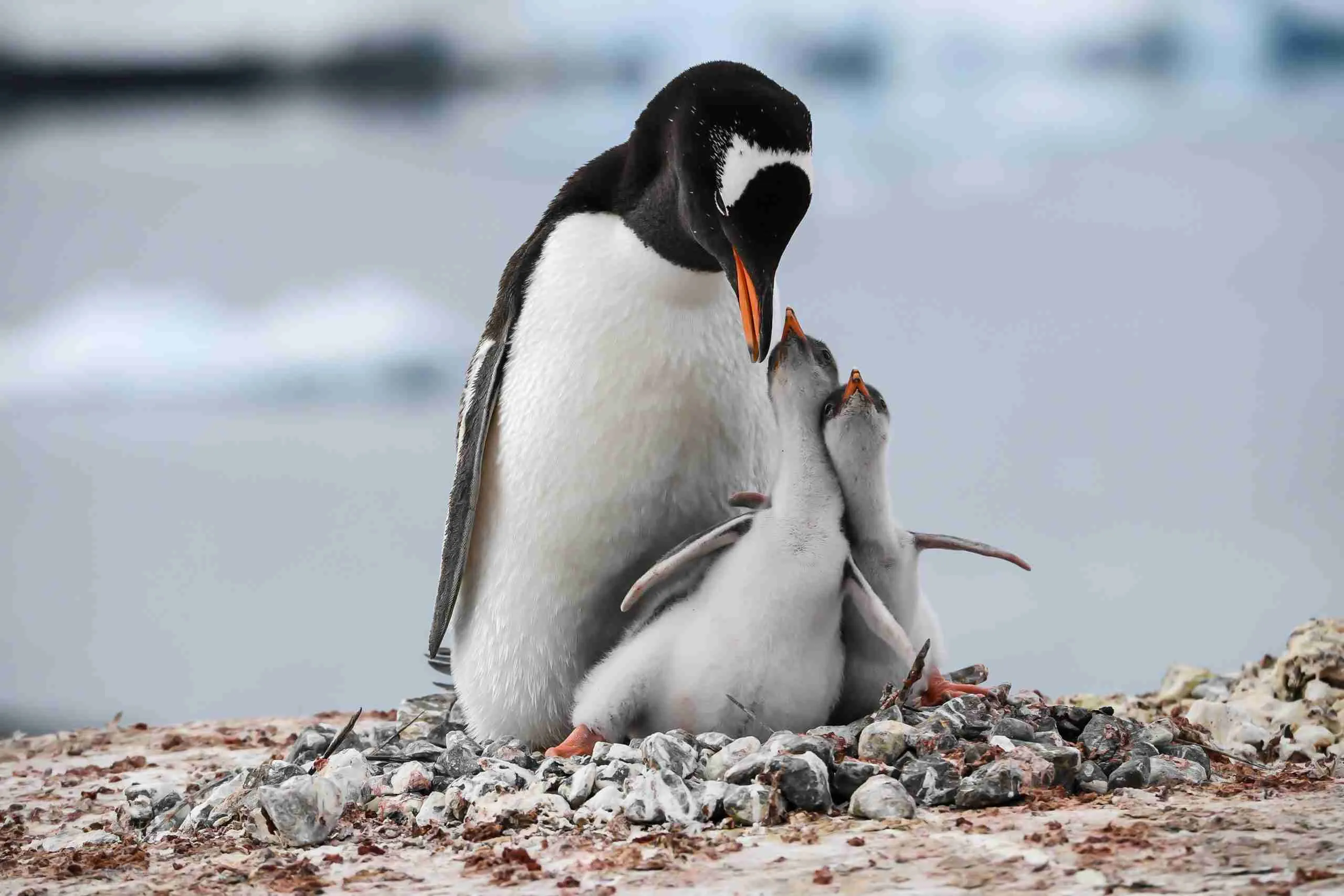 Gentoo Penguin with its chicks at Port Lockroy, Antarctica.
Photo credit: Charles Bergman
A central element of the charm of penguins in Antarctica was on full display. They offer a wildlife experience like no other in the world. The penguins do not flee from you. You can sit beside nesting penguins—even with chicks—and they don't scramble away. They are gloriously unafraid of people. In fact, you may encounter a penguin that will waddle right up to you, look you in the eye, its head tilting and its eyes unblinking, trying to figure you out.
I have had penguins hop onto my boots as I was photographing. As I lay on the ground to take a photo, one penguin nipped at my pants and my jacket. I have had penguins come right up to the camera and peer at me through the lens.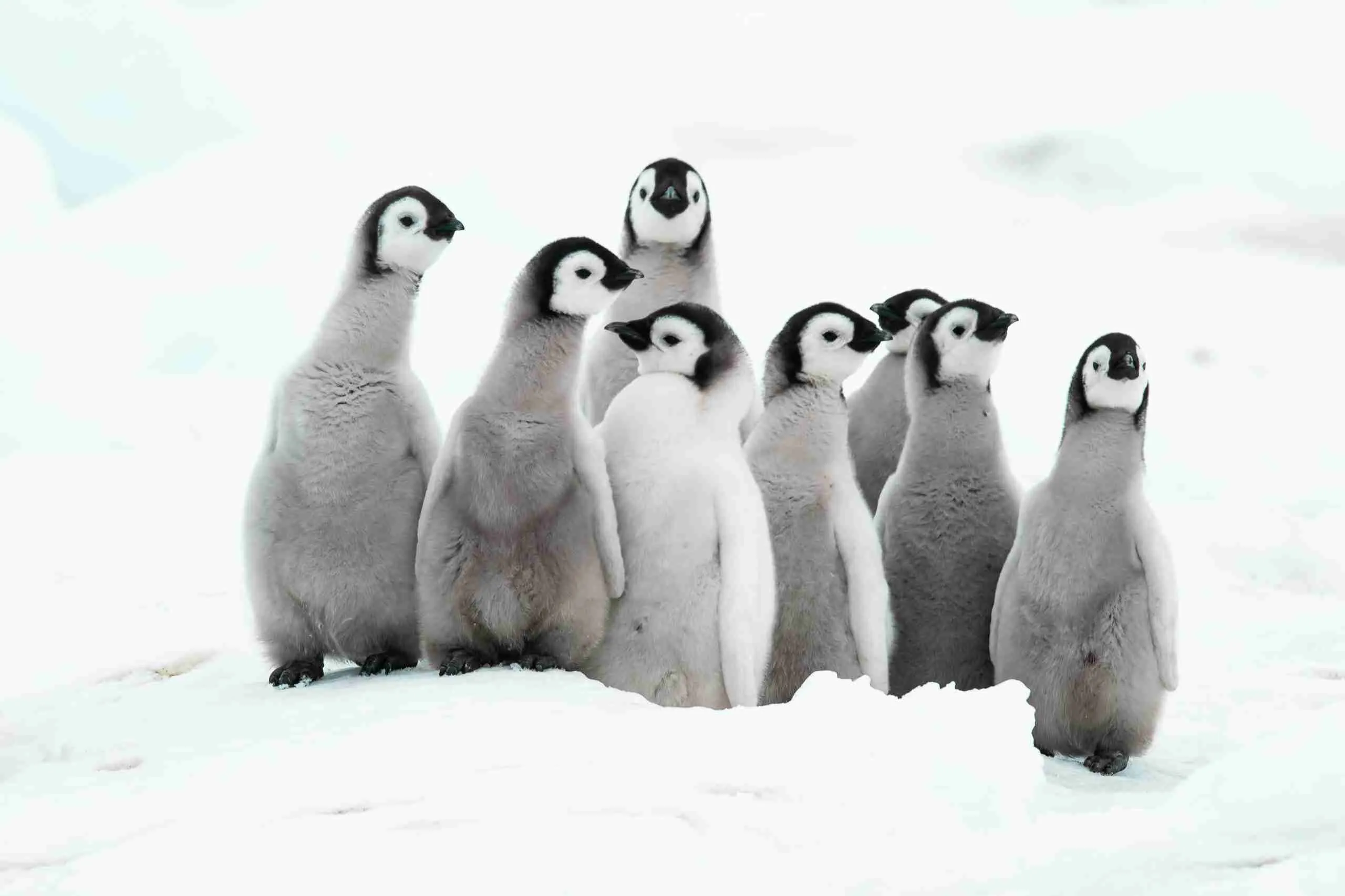 Emperor Penguin chicks at Snow Hill, Antarctica.
Photo credit: Charles Bergman
Plus, with penguins, the cute factor is off the charts. At Port Lockroy, the parents and the chicks were incredibly cute. The chicks had huge stomachs, tiny wings, and sweet faces. The tender solicitations of the parents were intimate and moving.
The encounters are magical, moving, and unforgettable. They will remind you of the restorative power of contact with wild animals. They're models of resilience.
Lesson 2: The Necessity of Awe and Wonder
Antarctica is a continent of wonders, at once humbling in its vastness and daunting in its ferocious beauty.
On one memorable trip to the peninsula, we anchored next to "Iceberg Alley." It's a kind of backwater where icebergs have run aground and are stranded. Small groups of Adélie Penguins often rest on these icebergs.
We got into Zodiacs, the inflatable boats that take us to shore or, as in this case, enable us to wander among the arrested icebergs. Wind and sun have carved the icebergs into a fantasy-land of dreamy shapes.
You may think of Antarctica as a white continent. But the ice often glows, as the icebergs here did, in exquisite shades of blue. The whole scene stretches your mind and lights up your imagination.
In the midst of this strange world of sculpted ice, we were astonished to discover four humpback whales feeding on krill. We spent an hour with them. They often came up near us. They were much bigger than the Zodiacs. Each one weighed about 25 tons.
Chinstrap Penguin with chicks at Hydrurga Rocks, Antarctica.
Photo credit: Charles Bergman
The scope and scale of the world in Antarctica is staggering. Antarctica and its wildlife will make you feel small. It's similar to the feeling you get with penguins. Their tender intimacies contrast dramatically with the vast immensity and the unforgiving harshness of the surrounding landscapes.
They will leave you with a sense of awakened wonder and awe. I find these moments in Antarctica humbling, in a deeply ethical and transformative way. You may feel small, but you do not feel insignificant.
As one of the great heroes of Antarctic exploration, Ernest Shackleton, put it, "You feel bigger in the bigness of the whole."  
Lesson 3: The Healing Power of Laughter
It's almost impossible to feel miserable in the company of penguins. Perhaps you are feeling overwhelmed. Perhaps even defeated and near despair. Penguins are invaluable as diversion and consolation. They will almost certainly make you laugh. They put a smile on your face.
A line of penguins parades past you, with their characteristic and comical waddle, so serious, so purposeful, so pretentious even. Then one will slip on the ice and do a faceplant in the snow. Or one suddenly slaps a neighbor with its flipper, and they break into a screaming chase.
Pride and a pratfall. Slapstick on ice.
You can't help but laugh. They are the beloved clowns at the bottom of the world.
One time I was photographing a colony of Gentoo Penguins, all faced to the sea, looking in the direction of the setting sun. As a spectacular sunset began to fill the sky, I walked around behind them. I wanted a photo of penguins watching the sunset.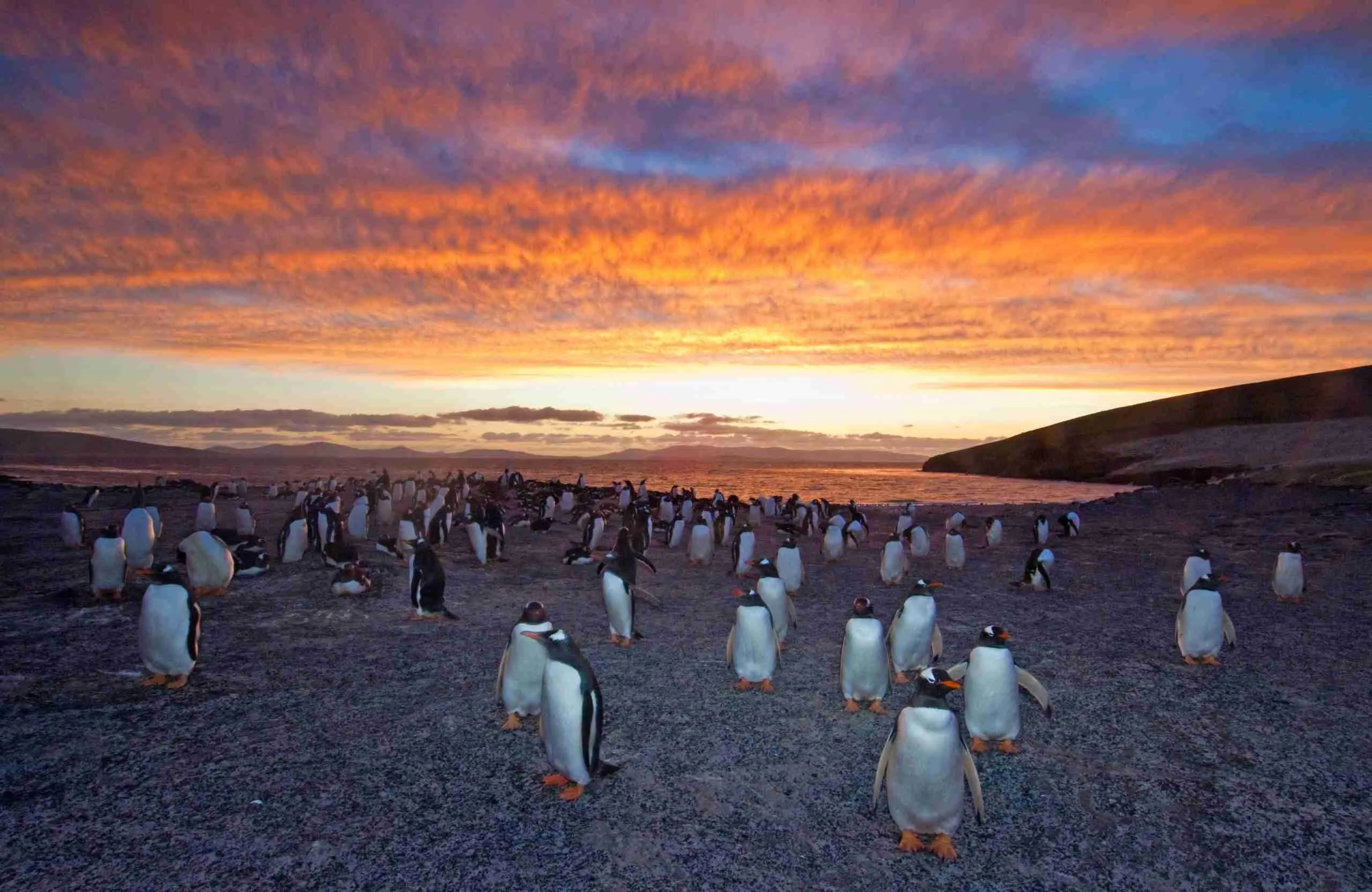 Gentoo Penguins at sunset in the Falkland Islands.
Photo credit: Charles Bergman
I busied myself with my tripod and camera, getting ready for the shot. Then I looked up again. I had to laugh out loud. All of the penguins had turned around. They were now facing me. I found myself wondering, who exactly is watching whom?
As I photographed them watching me, I had a smile on my face the whole time.
A connection with animals, a sense of wonder and awe, and a comic charm—the feeling you get in the company of penguins is unlike that of any other creature. My wife and I have a name for this unique penguin feeling, which is both healing and hopeful. We call it the penguin glow.
Our darkened world needs more of the penguin glow right now.
Charles Bergman is author of Every Penguin in the World: A Quest to See Them All
He can be contacted at bergman [at] plu.edu
Like our penguin blogs? Sign up for our newsletter to get them right in your inbox!