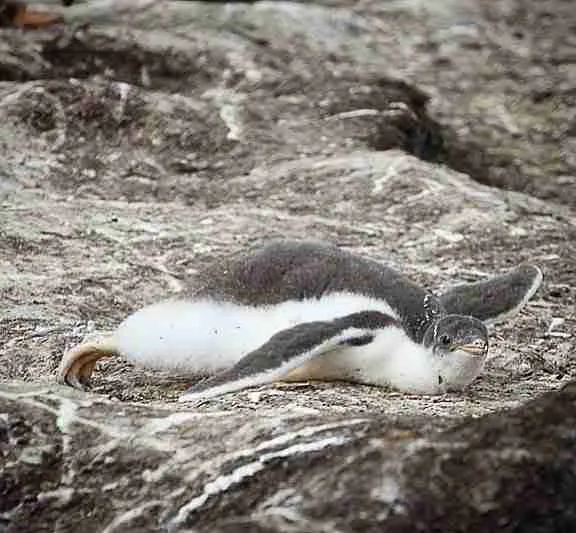 The Usefulness of Penguin Poo
by Jodie King
Let's talk about poo. All animals produce it but there's something rather special about penguin poo. Guano is excrement produced specifically from bats and seabirds (poop), including the 18 species of penguin that waddle around the Southern Hemisphere of our planet.
What's so special about penguin poop?
Many species of penguin including Humboldt Penguins use guano to build their nests. They scrape out layers of soil and poo using the claws on their feet to create burrows. These burrows offer protection for themselves and their chicks from the elements and any potential predators. However, not only is penguin poo a brilliant resource for penguins, it has been highly sought after for use by humans. 
Guano is normally used as a fertiliser as it is very high in nitrogen but has even been used to manufacture gunpowder! It was highly sought after during the early 19th century before the use of synthetic fertilizers, and was primarily extracted from Peru, the home of the Humboldt Penguin.
While using penguin poo is highly resourceful, the collection of guano can be devastating for penguins, as it destroys potential sites for nesting. Parent penguins are forced to create small scrapes on the surface of the substrate which provide little to no protection for their vulnerable chick.
Want to see just how much penguins actually poop? Check out this video. But we'll warn you, there's a lot of penguin pooping going on here! Not for the faint of heart.
What's being done to fix this problem of penguin guano harvesting?
Despite this, it's not all doom and gloom. Researchers have been investigating whether areas which have been overharvested for guano can be provided with manmade nest boxes. They have even gone to great lengths to investigate which types of material can mimic a natural African Penguin burrow the best, providing the appropriate levels of warmth and humidity. Additionally, to tackle the problem directly, sustainable guano harvesting has been introduced and walls have been erected around the nesting seabirds to protect them from the guano trade2.  In some areas the penguins even have their own guards.
BUT this isn't all penguin poo is useful for!
Penguin poo is also valuable for science and penguin conservation
Analysing guano can tell us vital information about penguins and their conservation. 
What you probably didn't know is that we have been monitoring penguins from space for over 30 years. In 1984, a NASA scientist called Mathew Schwaller suggested that satellites could be used to investigate penguin colonies3. Initially, scientists focused on surveying the Adélie Penguin, a species which only resides in Antarctica. This species has a diet which is mostly made up of krill (which makes their guano bright pink!), but might also make them vulnerable due to human fishing activities. Simplifying a highly complex method, the penguin guano and nesting materials can be distinguished from surrounding substrate using satellites. Using this comparison technique, new penguin colonies can be discovered on remote islands which have little or no access for people and would otherwise not have been found. And we can even look at estimating the number of penguins in the colony to track the abundance pattern4. The wonderful thing is, as technology improves, the image resolution increases and the ability to obtain information is far easier and much more superior.
Scientists are actually investigating penguin poo quality!
Investigating poo quantity (from space!) not only tells us about the number of penguins currently in the colony, but can also give a glimpse into the abundance of penguins throughout history. These colony estimates can then be compared to information such as food availability or environmental changes in the same years to establish whether there are any trends in colony declines or increases. On the other hand, it can be used to help provide this information and indicate the condition of the marine ecosystem as the penguins rely on an abundance of fish and small crustaceans to survive. 
A wonderful example of this in action can be seen by researchers Roberts et al. (2017). Using the 84.5g of guano that a Gentoo Penguin produces each day, they investigated the impact of volcanic eruptions on the penguin colony size from an impressive 8,500 years ago!5
Put simply, penguin poop is wonderful stuff. It not only provides penguins with a nest to shelter from the elements and to raise chicks, but offers humans with a highly effective way to fertilise crops. Even more than that, it provides a wealth of information about many penguin species and can even act as an indicator for the diversity of wildlife around them.
Did you know how useful penguin poo can be? Please let us know what you learned. And please help us to continue to provide you with penguin news articles by donating to Penguins International.
Read more about penguins in some of our other blogs:
Like our penguin blogs? Sign up for our newsletter to get them right in your inbox!
Useful references:
1. Bonnie R., Lei & Green, Jonathan & Pichegru, Lorien. (2013). Extreme microclimate conditions in artificial nests for Endangered African Penguins. Bird Conservation International. 24. 10.1017/S0959270913000671.
2. https://www.iucn.org/content/bird-droppings-biodiversity-paradise-%E2%80%93-guano-islands-and-capes-national-reserve-system-peru
3. Schwaller, M. R., Olson Jr, C. E., Ma, Z., Zhu, Z., & Dahmer, P. (1989). A remote sensing analysis of Adélie penguin rookeries. Remote sensing of environment, 28, 199-206.
4. Lynch, H. J., & Schwaller, M. R. (2014). Mapping the abundance and distribution of Adélie penguins using Landsat-7: first steps towards an integrated multi-sensor pipeline for tracking populations at the continental scale. PloS one, 9(11), e113301. doi:10.1371/journal.pone.0113301
5. Roberts, S. J., Monien, P., Foster, L. C., Loftfield, J., Hocking, E. P., Schnetger, B., … & Ochyra, R. (2017). Past penguin colony responses to explosive volcanism on the Antarctic Peninsula. Nature communications, 8, 14914.