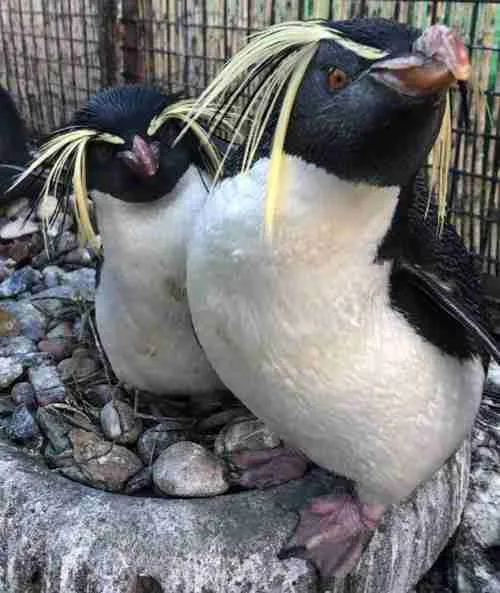 Picking the Perfect Penguin Partner, AKA Using "The Studbook"
By Lorna Moffat, Penguin Keeper
Zoos use a studbook to keep track of penguin lineage
What does a male or female penguin look for in a mate? Is it being gifted the perfect pebble? Winning the desired nest spot? Sporting a thickest bonnet or longer crest than the average male? There is a lot to consider and picking the perfect penguin partner is vital to producing the strongest offspring.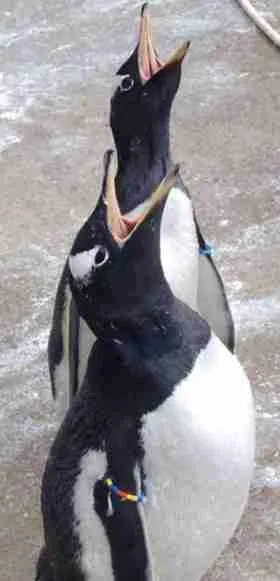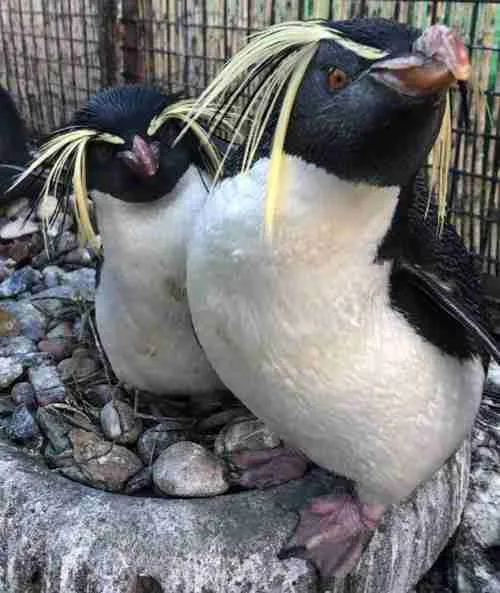 Image 1: Bonded Gentoo Penguin pair ecstatic displaying (trumpeting), Image 2: Nesting Gentoo Penguin, Image 3: Northern Rockhopper pair sitting on egg
Photo credit: Lorna Moffat
First, a little background information on Gentoo Penguins
Classed as "Least Concern" under the IUCN Red List 3, Gentoo Penguins (Pygoscelis papua) face many threats in the wild including over-fishing, plastic pollution, and rising sea temperatures. With an estimated 390,000 wild breeding pairs, distributed along Crozet Island, Falkland Island and South Georgia 3, all chicks that hatch are crucial to future generations. Conservation efforts are ongoing to not only protect penguins, but the ecosystem as a whole: i.e. Falkands Conservation analyse breeding success annually via population counts, maintain nesting sites and good relationships with local fisheries 5.
Image 4: A Gentoo Penguin breeding colony on Sea Lion Island, Falkland Islands
Photo credit: Lorna Moffat
Breeding management in captive populations = Studbooks
With wild breeding success fluctuating each year, zoos and aquariums work hard to maintain global captive populations through breeding programmes to sustain genetic diversity as well as providing them with high standards of husbandry with regards to veterinary care, enclosure design and nutritional requirements.
Image 5: Colin and his two chicks at EZ – each chick being identified by a coloured "scooby" band
Photo credit: Lorna Moffat
Most zoos and aquariums are members of an accredited regional organisation such as EAZA (European Association of Zoos and Aquaria), ZAA (Zoo and Aquarium Association) or AZA (Association of Zoos and Aquaria). Each association has established Taxon Advisory Groups (TAGs) – groups which specialise in a group of animals such as penguins, birds, cats. One role of a TAG is to implement how each species is managed with regards to breeding – assessing the conservation status, global/captive population status and what species is housed where 4. Different regions have their own established breeding programmes: European Gentoo populations are managed as an ESB (European studbook) by RZSS Edinburgh Zoo, and as a Green SSP (Species Survival Plan) Programme by Sydney Aquarium (Australia) and San Diego SeaWorld (North America) 1. It is important that regional holders keep in close contact with each other in order to sustain captive populations.
Studbook keepers manage the studbooks
Studbook keepers are people with a specialised interest in and has worked (or working with) the species. However, it is not as simple as putting 20 males in with 20 females and breeding as many chicks as possible. Managing colonial species such as penguins is different to species like tigers: one male + one female = cubs. You cannot predict which birds will pair up together meaning that each colony should have the correct genetic diversity limiting chances of inbreeding between related birds. Studbooks are designed to be able to analyse these genetic demographics via databases such as ZIMS (Zoological Information Management System) (previously via SPARKS) 4. Every bird entered into the database has their own record (an equivalent to a "Tinder" profile), holding information such as hatch date, location, sex, rearing type, taxonomy, local identity number, tags, chips and most importantly – parental lineage. All this information is pulled from their own animal record which is why ZIMS is a great platform as it holds all information (medical notes, husbandry notes, weights, pedigree line) on one database.
A studbook keeper's main role is to maintain these records, as well as analyse the genetics of each colony and make recommendations to institutes (i.e. swapping 10 birds with another collection). With over 800 Gentoos from 37+ institutes being listed on the ESB on ZIMS, it is essential that all collections hold accurate animal records as this information could be crucial with where the bird is housed and with whom.
And then there are sub-species of penguins (likely to be classified as new species someday)
Another thing to consider are sub-species. Gentoos that breed farther south in colder temperatures are subtly morphologically different to Northern populations, meaning that there are two classified sub-species: the Southern species (Pygoscelis papua ellsworthi) that breed on the Peninsula (South Orkney/Nelson Island) and the larger, Northern (Falkland) species (Pygoscelis papua papua). These morphological differences are very subtle and may be down to varied oceanic conditions 5. Gentoos that have unknown wild lineage in captivity are classed as Pygoscelis papua. With these sub-species in mind, many collections have specific species – i.e. Loro Parque in Tenerife and SeaWorld in North America have the Falklands line, and The Deep in England have predominantly Ellsworthi line. This means that it is easier to keep captive lines pure with the knowledge of where their wild genes originated from and attempt to eliminate hybridisation. 
Penguin breeding success at Edinburgh Zoo
Edinburgh Zoo (Royal Zoological Society of Scotland) has had great breeding success over the past 60 years with a current population of 96 gentoos being housed with 25 Northern Rockhopper (Eudyptes moseleyi) and 5 King Penguins (Aptenodytes patagonicus). The zoo was also the first captive collection in the world to successfully breed the famous King Penguin. There are many factors aiding this breeding success: Established breeding protocols, high standards of husbandry as well as a team of dedicated keepers. By keeping in contact with institutions that hold the species, this means that teams can share methods and give out advice aiding in improved husbandry guidelines as well as higher chick survival rates.
Image 6: Gentoo Penguin nest-site at "Penguins Rock", Edinburgh Zoo
Photo credit: Lorna Moffat
Edinburgh penguins are identified by coloured flipper-bands located on the left flipper for female, right for male (devised of coloured hama beads threaded onto cable ties) This means that during the breeding season accurate information such as sire, dam and clutch records can be kept which will then be entered onto ZIMS. It is vital to know who the sire and dam are of each chick, to prevent inbreeding, passing on of traits such as leucism breeding from birds that are over-represented in the colony as well as tracing genetic lineages.  
Image 7: Gentoo Penguin "Kevin" at EZ with gold flipper-band on right flipper as form of identity.
Photo credit: Lorna Moffat
The studbook: Essential to the survival of the various penguin species
Maintaining studbooks means that genetic lineages can be traced back to wild birds that were brought into captivity (100+ years ago) when it was legal practice to remove birds/eggs from the wild. Birds that have wild genes only a few generations up the line (i.e. grandparents) are desired individuals to breed from as their genes are more under-represented in than birds that have wild genes 8 generations up the line.
The IUCN issued a 'Captive Breeding Policy' in 1987 stating that all zoos holding wild animals should aim to achieve self-sustaining, genetically diverse populations – and today this is being carried out by zoos and aquariums; not just by breeding genetically viable offspring, but by educating visitors on the role of good zoos and how they are helping the species not just in captivity, but in the wild too.
Uncover more fascinating facts in some of our other blogs:
Like our penguin blogs? Sign up for our newsletter to get them right in your inbox!