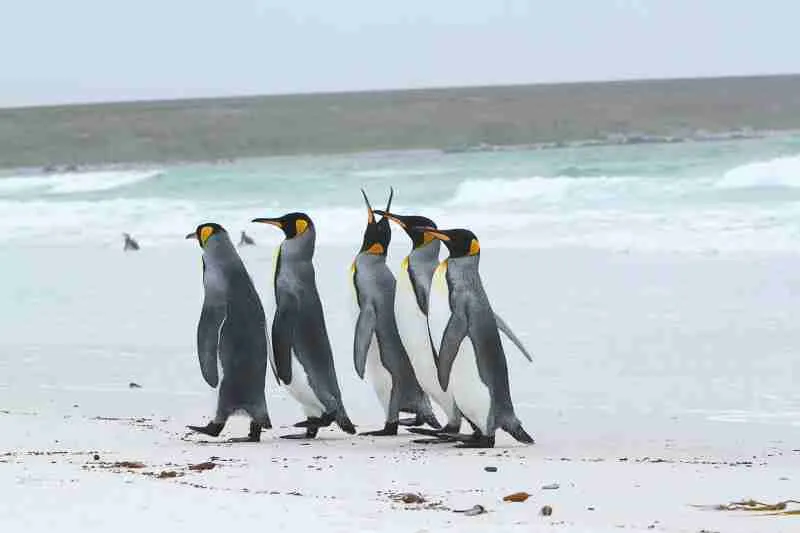 What do you call a group of penguins?
By Abigail Pietrow, Penguin Keeper
A "pride" of lions, a "pod" of dolphins, a "murder" of crows… There are plenty of different names for groups of animals. Some are familiar, like herds or packs, and some are wacky, like a "smack" of jellyfish or an "embarrassment" of pandas. These terms often have their roots in unusual or notable traits of the group they describe. Examples of this might include a "prickle" of porcupines or a "romp" of otters!
So, what in the world do we call a group of penguins?
It turns out the answer to that question depends on several different things, like age, location, and activity. A group of penguins is called many things. Let's start with…
(1) A group of penguins is called a Waddle!
Everyone knows that penguins waddle. It's one of their most endearing traits and is a result of their skeletal anatomy and hydrodynamic adaptations.
This is one of those group terms that come from a notable characteristic of the species. Specifically, it is often used to describe a group of penguins on land that are on the move!
(2) A group of penguins is called a Colony or a Rookery! 
Penguins are social birds, and during the breeding season and other times of the year they congregate on land in groups of hundreds or even thousands of individuals! These large breeding groups are referred to as a colony or rookery. Penguins show a high degree of site-fidelity and will typically return to the same location, and sometimes even the same nest site, year after year.
Source: Penguins International photo library
(3) A group of penguins is called a Crèche! 
A crèche is a group of chicks that band together for safety in numbers while their parents hunt. This term can also be defined as "a place where young children are cared for during the day while their parents do something else." So, kind of like a penguin daycare!
Within breeding colonies, penguin parents are hard at work raising chicks. This requires sharing of guard duty while the other parent is feeding at sea to bring back food for the young ones. However, penguin chicks grow very quickly. After a certain point, usually around 4-5 weeks, the chicks are big enough that they no longer need the parent to help keep them warm and they require enough food that both parents need to be fishing more regularly to keep the chicks sufficiently fed. Chicks will group together for safety while their parents are at sea. These crèches are most often seen in surface-nesting species, as chicks of burrow-nesting species like the banded penguins and Little Blue penguin will usually remain in their own sheltered nest while waiting for their parents to return.
Source: Penguins International photo library
(4) A group of penguins is called a Raft!
This term is used to describe a group of penguins in the water. Penguins eat an exclusively seafood diet, and so spend quite a large portion of their time at sea hunting. Penguins will not only dive to hunt for food in the ocean but will also spend periods of time floating at the surface to rest or preen their feathers. Such a group of floating birds is likely what inspired the descriptive term!
Abigail Pietrow is a penguin keeper at the Aquarium of Niagara, and works extensively with Humboldt Penguins. Any views or opinions expressed in this article are the author's own, and do not necessarily represent those of the Aquarium of Niagara.
Who knew there were so many different names for a group of these flightless birds? Which one did you find most interesting? Share your thoughts with us in the comments! Please help us continue to share more penguin stories by donating to Penguins International.
Uncover more fascinating facts in some of our other blogs:
Like our penguin blogs? Sign up for our newsletter to get them right in your inbox!
References
Borboroglu, P. G. & Boersma, P. D. (2013). Penguins: Natural history and conservation. Seattle, WA: University of Washington Press.
CRÈCHE: Definition in the Cambridge English Dictionary. (2020). Retrieved October 27, 2020, from https://dictionary.cambridge.org/us/dictionary/english/creche
Mendoran, S. (2018, October 27). A Comprehensive List of Animal Group Names – Owlcation – Education. Retrieved October 20,2020, from https://owlcation.com/stem/collective-names-for-groups-of-animals
Penguins. (2020). Retrieved October 27, 2020, from https://seaworld.com/educational-resources/penguins/