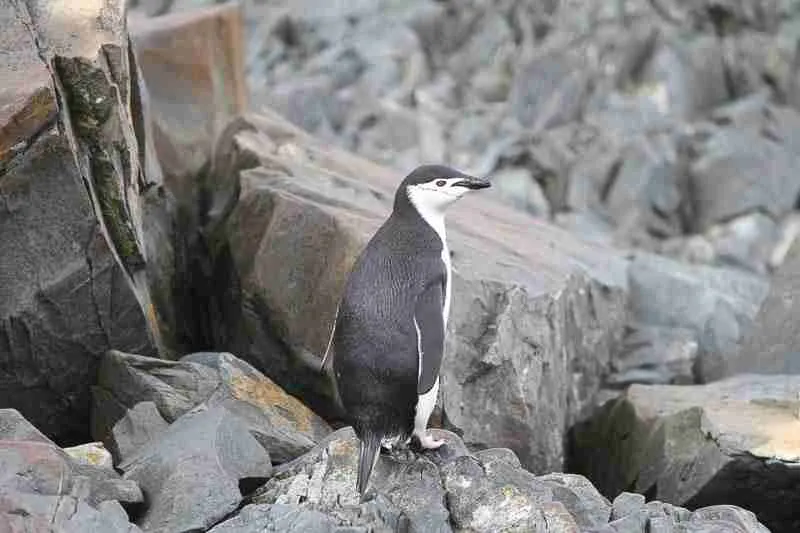 Chinstrap Penguins: Risking Their Lives on Zavodovski Island
By Sian Liversage
We often think of penguin colonies as a magical place, full of cute fluffy chicks and amazing doting parents. However, these situations are far from the truth when you add some of the most dangerous seas and an active volcano spewing ash into the mix. 
Zavodovski Island – One of the largest Chinstrap Penguin colonies in the world
Chinstrap Penguins stand 75cm tall and are well known for their narrow band of black feathers that pass from ear to ear across the face and under the chin. One of the largest Chinstrap Penguin colonies in the world is on Zavodovski Island, situated in the South Sandwich Islands in Antarctica. With 7.5 million Chinstrap Penguins worldwide, the colony represents over one-seventh of the species' global population. As well as this vast population, approximately 180,000 Macaroni Penguins are resident here too.
The Chinstraps arrive to breed during the October and November months to lay 2 small eggs on the ground in a nest that is lined with small stones. Eggs are incubated by both the males and females, where they will often incubate in stints of up to 6 days at a time. During this time, one penguin will be feeding on Antarctic krill and various other crustaceans of which the chicks rely on for growth and development, while the other penguin will keep the eggs warm and protected.
A Chinstrap Penguin in Antarctica. Source: Penguins International Photo Library
In order to get the food though, the penguins must face treacherous waters and 30-foot cliffs that surround the island, risking severe injury or even worse – death. (see link below)
These Chinstraps have to face catastrophic natural disasters to survive
Their strong feet and long claws allow them to grip to the rocks as best they can with some varying success, however, with the pounding waves it is inevitable that they won't always succeed. To make things even more astounding, this isn't the only hardship they go through. Not only do they have to endure the perilous seas every 6 days for weeks on end to feed their chicks, but they also face natural disasters too.
The volcanic eruption on Mount Curry severely threatened this penguin colony
Zavodovski Island is home to an active volcano, called Mount Curry. In 2016, it threatened more than 1 million Chinstrap Penguins, so much so that the population was in risk of being wiped out. The British Antarctic Survey (BAS) stated that the volcano had erupted and covered the island in toxic smoke and ash. The penguins were in grave danger of the smoke causing breathing difficulties, and the volcanic discharge could have potentially burned them or buried them in ash. The timing was terrible for the poor birds, as it was during their annual moult which meant that they couldn't swim to find safety. During moulting, the penguins lose their insulation and waterproofing as they shed their old feathers for new ones, therefore they are forced to stay on land and out of the water. 
Mount Curry on Zavodovski Island erupted on March 2016. 
 Photo 
Credit: British Antarctic Survey
The penguins survived, but scientists have little ability to observe how they react to such an eruption
This is believed to have been the first time Zavodovski Island has been witnessed erupting, and it is thought that this event occurred following a 7.2 magnitude earthquake only a month before. Although this threat occurred a few years ago, to this day the volcano remains active and could easily erupt again leaving the penguins at its peril. With the island being so remote – over a thousand miles away from the nearest continental coastline – surveys cannot be undertaken regularly as the trip requires acute planning for the safety of the scientists involved. Therefore, the population could easily be wiped out without anyone even realising.
The impact that mother nature throws at this penguin colony is astonishing and often scientists are unsure what impact they will have on the health and survival of the population in the long run. Only by sending scientific expeditions to the region can they have a better understanding of how Chinstrap Penguins manage to survive these ongoing threats.
Did you ever imagine that penguins not only have to survive the harsh temperatures of Antarctica, but some penguins even have to live and survive around massive volcanic eruptions. Have you ever seen a volcanic eruption in person? Let us know what you think? And please help us to continue to provide you with penguin news articles by donating to Penguins International.
Read more about penguins in some of our other blogs:
Like our penguin blogs? Sign up for our newsletter to get them right in your inbox!