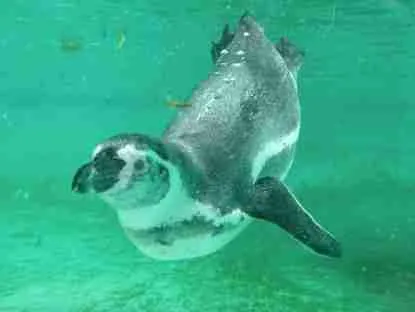 (© Martin Franklin/ZSL)
Humboldt Penguin showing off its flippers and swimming ability.
Have Penguins Ever Been Able To Fly?
"Swimming is normal for me. I'm relaxed. I'm comfortable, and I know my surroundings. It's my home." (Michael Phelps, most decorated Olympian of all time).
"Swimming is a confusing sport. Sometimes you do it for fun, but then other times you do it to not die. And when I'm swimming, sometimes I'm not sure which one it is. You have to go by the outfit. Pants – oh oh! Bathing suit – ok! Naked – we'll see!" (Demetri Martin, comedian).
Penguin conservation is imperative!
In the course of my work as a zookeeper at ZSL London Zoo (a charity which supports animal conservation projects all over the world), I frequently get asked some pretty odd (often brilliant) questions. Recently two 6- or 7-year-olds asked me, "Have penguins ever been able to fly?" (A great question, I thought). Although we ended up talking about traits these children had inherited from their grandparents, I ultimately utterly failed to explain in simple enough terms to them how evolution works – entirely mea culpa. (Incidentally, for thoroughly clear and persuasive introductions to the facts and mechanisms of evolution, I'd highly recommend reading both Coyne1 and Dawkins2).
This incident did, however, prompt me to write this piece. Of course, penguins, as we understand and envisage them, have never been able to fly. But their ancestors, from whom they evolved, unquestionably could. The real question is to ask what pressures or opportunities caused that change.
Why do penguins swim instead of fly?
First, however, a quick look at flightlessness in birds generally. Although flying has proved advantageous to most bird species (and has thus been retained), a wide range (in terms of size, geographical spread and ecology) have evolved to discard the power of flight once possessed by their ancestors. These include:
"Ratites" (i.e. ostriches, rheas, emus, cassowaries and kiwis, plus the now extinct moas and elephant birds), which lack a keel (ridge) on their sterna (breastbones) onto which to attach flight muscles. 

Numerous waterfowl (

Anseriformes

) (e.g. Aukland Teals and Campbell Teals).

Two species of grebe (

Podicipediformes

) (i.e. Junin Grebes and Titicaca Grebes).

One of the pelican/cormorant group (

Pelecaniformes

) (i.e. flightless cormorants). 

One of the parrot group (

Psittaciformes

) (i.e. Kakapos). 

Numerous rails (

Gruiformes

) (e.g. Calayan Rails and Pink-legged Rails).

A variety of now extinct birds, including from the: pigeon and doves (

Columbiformes

) (e.g. Dodos); gamebirds (

Galliformes

); hoopoes (

Coraciiformes

);

birds of prey (

Falconiformes

);

owls (

Strigiformes

);

nightjars (

Caprimulgiformes

);

perching birds (

Passeriformes

); and auks (

Charadriiformes

).
Many of these flightless species come/came from remote, predator-free, food-abundant islands, which helps explain why they lost the ability to fly. It is "expensive" (in terms of energy required and lost other opportunities) for birds to maintain the necessary physical attributes needed for flight (e.g. large, calcium-rich, keeled breastbones and large chest muscles). Therefore, if it's no longer necessary to fly to avoid predation or hunt, natural selection frequently results in less investment in such "expensive" materials/attributes.3
Flightlessness exists in many birds besides penguins
Flightlessness has also evolved independently in:
large-bodied, herbivorous birds (e.g. ostriches, emus, cassowaries, moas and elephant birds), as a diet of high-volume low-quality vegetation favours developing a large body, which in turn increases the challenges of maintaining the apparatus needed for flight; 

several foot-propelled diving birds (e.g. flightless cormorants), as these evolved to have powerful, paddle-like legs and feet (so their wings and chest-muscles became increasing less important for locomotion, and accordingly regressed); and

penguins (i.e. wing-propelled divers, that in water use their feet as a rudder, rather than for propulsion). These are by far the largest bird family whose entire members are flightless.

4
The transition from flying birds to wing-propelled divers was a gradual process which started around 65 million years ago for penguins, and would have involved an intermediate stage whereby its ancestors could use their wings for both flying in the air and diving/swimming underwater (much as Razorbills, for example, do today). These ancestors were probably seabirds similar to modern diving petrels.
Strategies for a bird to choose swimming vs. flying
One of two strategies can be adopted once such a bird reaches a critical size of around 1kg (above which the size of wing needed for flying becomes too large for efficient swimming). Either: 
(1) the wings can be kept solely for flying, and the feet/legs can be used for underwater propulsion (as observed in most modern ducks and cormorants); or 
(2) aerial flight can be abandoned in return for superior underwater swimming (as happened with penguins).4,5
Gradually, therefore, as this ancestor fared better swimming underwater than flying above it:
No longer constrained by the necessity of flying as well as swimming, it was able to increase its weight. (One now-extinct penguin species,

Anthropornis nordenskjoeldi

, weighed around 135kg, and the modern Emperor and King Penguins are also relatively large animals). 

Slim wing bones became increasingly shorter and heavier, eventually resulting in the flat, broad (and less flexible) flippers sported by modern penguins.

Other related adaptations developed, including, for example, a hydrodynamic body shape and denser bones (unlike flying birds' air-filled bones), meaning penguins are not overly buoyant. 
As a result, by 55 million years ago, penguins were completely flightless but thoroughly adapted to life in water.4,5
The adaptations that penguins have developed over thousands of years never ceases to be fascinating. Tell us your thoughts in the comment sections below. And please consider assisting with our conservation projects and helping us to continue to provide you this information by donating to Penguins International.
Read more about penguins in some of other blogs:
Like our penguin blogs? Sign up for our newsletter to get them right in your inbox!
References
1 Coyne, J. A. (2009). Why Evolution is True. Oxford University Press: Oxford.
2 Dawkins, R. (2009). The Greatest Show on Earth. Transworld Publishers: London.
3 McNab, B. K. (1994). Energy Conservation and the Evolution of Flightlessness in Birds. The American Naturalist. Vol. 144, no.4, 628-642.
4 Gill, F. B. and Prum, R. O. (2019). Ornithology. (4th edition). W. H. Freeman and Company: New York.
5 Lynch, W. (2007). Penguins of the World. A&C Black Publishers Limited: London.