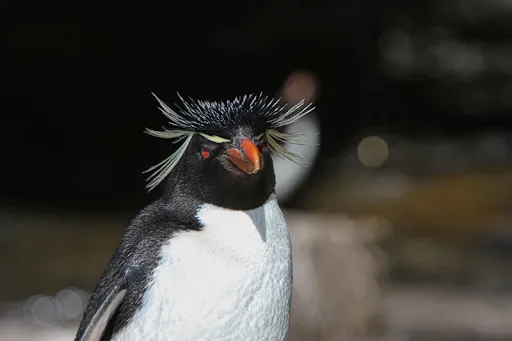 Penguins in Captivity: Keeping them happy
It seems that no matter what age you are, whether a child or an adult, one of the most popular and interesting animals to see when visiting a zoo or an animal attraction are the penguins. People have certainly anthropomorphised this species because of the way they look and behave; a good example of this is how they are often compared to a small human wearing a tuxedo. Their waddling gait, clumsy nature and charismatic personalities make them an ideal species to have in captivity, simply to bring the people in. But should they be kept in captivity in the first place?
There is definitely a balance to keeping penguins happy and healthy in captivity
We can't hide the fact that there are some negative sides to life while living in the care of humans, especially if animals are mistreated or not appropriately housed. Penguins are no different when it comes to struggling in a captive situation.
In one facility, staff had to administer medication to their Humboldt penguins after they showed signs of stress attributed to the difference in local weather that was very different to their natural climate.
Stress can lower a penguin's immune system, which could cause them to be more vulnerable to diseases, especially if they are kept in poor conditions. Enclosures that are small, with small pools, means that penguins cannot display their natural behaviours, which in turn will increase their stress levels. Another facility nearly ten years ago had several Humboldt Penguins die of infections from unknown causes. This could have been attributed to stress from living conditions or lack of staff knowledge, or any other number of reasons.
Despite the best intentions of an animal keeper, things don't always go smoothly. For that reason, we promote AZA accreditation in the U.S. and BIAZA membership in the U.K. for facilities that meet strict guidelines for animal management and care. The standards held by facilities with this oversight will ensure the best care is given to all of their animals. 
Animal care and management goes beyond best practices, however. The penguins need to be kept engaged and in an environment that promotes enrichment.
Zoo enclosures have advanced dramatically in keep penguins happy and healthy
Zoo enclosure designs have come a long way since the bare concrete space that animals used to live in, now providing an engaging, healthy sanctuary for penguins. Zoos and aquariums also play a key role towards conserving endangered species too, of which there are a large proportion of penguins under this category. Likewise, many zoos and aquariums aim to promote conservation work, educate the general public, and support wildlife projects. All of these categories merge to create a standard of welfare, which means that penguins which are kept in captivity are given the utmost care. These standards are in place to allow the animals to develop in a healthy environment as similar to their natural habitat as possible.
New enclosure designs promote more natural behaviours in penguins
The Detroit Zoo recognised that their penguins needed something more in their enclosure, so they replaced a 6-foot deep pool with a 25-foot deep pool. The penguins ended up spending extra time in the water than previously, showing the zookeepers that this new change enhanced their lives that much more. The penguins spoke and their keepers listened.
Flagship species, like penguins, will draw crowds in, helping to raise their profile. This will in turn fund conservation efforts to help protect the species in the wild. So, keeping them in an enclosure that promotes their natural behaviour is vital not only for giving them a stress-free life, but also for educating the general public on their behaviours and the conservation work that is ongoing throughout the world.
No matter what evidence is put forward though, animals in captivity whether it be focusing on penguins or not, will continue to be a controversial issue that is widely discussed. From the evidence shown in this blog, it seems that as long as penguins can behave naturally, they are able to live a long happy life in a human made environment without predators. The efforts that zoos and parks will go to nowadays to keeping their animals stress free is astounding, and I think it's safe to say that people have learned from the past and will continue to learn the needs of their animals for the future. 
Pro/con, zoos are helping penguins feel like they are more in their natural habitats while in captivity, but they will always feel do better when free. Please help us continue to provide you this type of information by donating to Penguins International.
Read more about penguins in some of other blogs:
Like our penguin blogs? Sign up for our newsletter to get them right in your inbox!