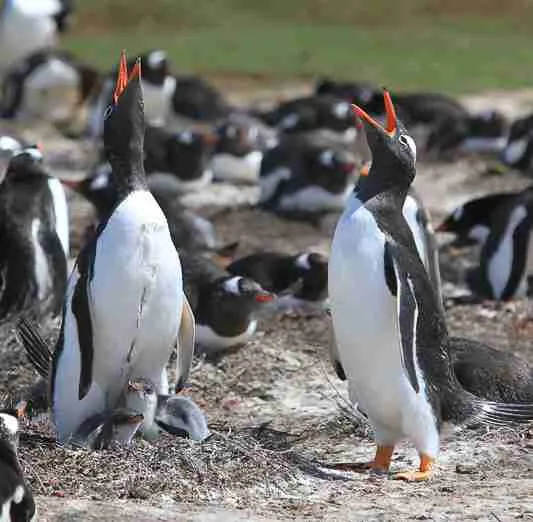 Gentoo Penguins and the Impacts of Tourism
Tourists want to visit Antarctica because it's one of the most pristine places in the world
Until relatively recently been an unreachable location for humans. Lately, with ecotourism increasing in this isolated corner of the world, a threat for our beloved penguins might be surging.
In the past, many people have tried to reach Antarctica, the frozen continent, because it was one of the last unconquered places on Earth and was the conquest dream of early explorers. However, this situation is changing now with the growth of ecotourism. In just the past year more than 58,000 tourists visited Antarctica during the austral summer1. Such massive human activity represents a potential threat for penguin colonies, which are the most visited attractions. 
Unfortunately for the penguins, most of the visits occur during their time out of the ocean, while they are nesting, which is a critical period for penguin populations. 
Protecting Penguins – How do we minimize impacts of tourists on penguins ?
To protect the inhabitants of the frozen continent, the International Association of Antarctica Tour Operators (IAATO) has set up strict guidelines for tourists and tour operators to follow to minimize impacts on this delicate ecosystem. For example, only 100 tourists can approach penguin colonies at a time, and they have to maintain a minimum distance of 5 meters from nesting penguins. 
Although such guidelines seem to be working in Antarctica, there is mixed evidence about how penguins respond to humans at other locations. For example, some penguins get stressed in the presence of humans (see Stressed Penguins).
Some species of penguins have even shown evidence of habituation to humans when visits are constant. This means that the repeated exposure to humans decreases the physiological responses of animals to such stimulus, ending in lower levels of stress hormones and no responses from the penguins. 
In a recent study1, researchers have measured a combination of corticosterone and metabolites, as a proxy of physiological stress in 19 Gentoo Penguin colonies. The aim of this study was to quantify if those metabolites varied in relation to the number of tourists visiting the colonies and if the current guidelines implemented in Antarctica were enough to protect nesting Gentoo Penguins. The researchers were also expecting to observe habituated individuals in colonies that receive a greater influx of people. 
Scientists can actually measure penguin stress
In order to study the amount of stress hormones in penguin colonies, the researchers used a non-invasive technique measuring metabolites in guano (i.e. in penguin poo). This approach could minimize the stress provoked by direct handling and the presence of researchers. 
The study showed that the amount of glucocorticoids found in Gentoo guano had a large degree of variation within-colonies, which was larger than the differences between colonies, independently of the number of tourists that visited the areas.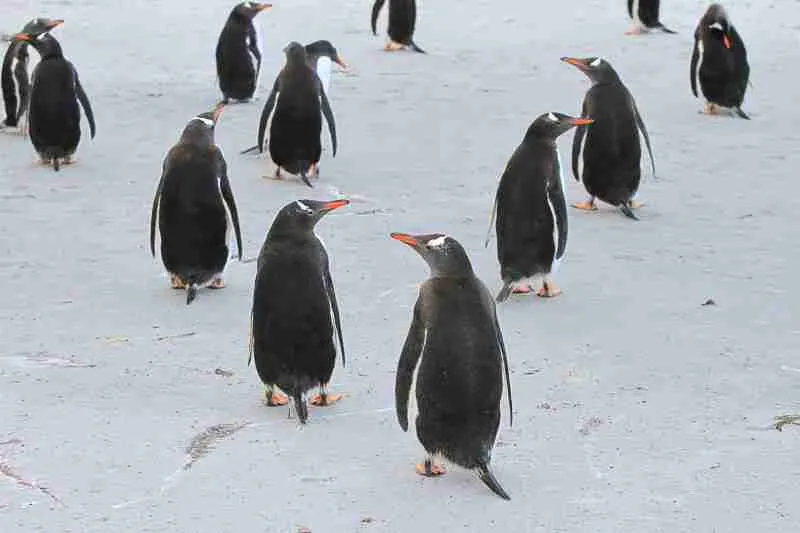 According to the researchers, the lack of differences in stress levels highlight that Gentoo Penguins do not seem to be affected by tourism, as the number of landings in colonies varied significantly from no visits to more than 21,000 landings in one season! The researchers argued that such variation in stress hormones might be a result from other external sources at the colony (e.g. predators, other penguins, food availability, etc.). 
The study also indicated that unlike other species of penguins, Gentoo Penguins do not display signs of habituation, as lower and more consistent corticosterone concentrations would have been expected in more visited areas. 
It seems like Gentoo Penguins are not affected by tourism and guidelines might be effective for them. However, caution is needed when interpreting those results. Other authors have argued that measuring glucocorticoids from "poo" might have limitations as it mixes results from many individuals. To confirm these findings, repeated individual measures are still needed. 
In other species of penguins, individuals might react differently to stressing factors according to personality. Perhaps individual personality studies could explain why intra-colony levels of corticosterone showed such levels of variation.
Although this study focused only on one penguin species, it gives a positive look on how our activities can be managed to a minimal impact. Perhaps Gentoo Penguin are unaffected by the presence of intruders, which could potentially provide us a great opportunity to continue observing the most intimate details of their lives. 
We want to see these penguins and we never know what we might or might not be doing when we visit their habitat. This research is incredible! We enjoy bringing this to you and hope you enjoy it as well! We more than appreciate any help you provide us with your kind donations to Penguins International.
We have other blogs about these birds, as well, if you've missed a few:
Like our penguin blogs? Sign up for our newsletter to get them right in your inbox!
Lynch, M. A., Youngflesh, C., Agha, N. H., Ottinger, M. A., & Lynch, H. J. (2019). Tourism and stress hormone measures in Gentoo Penguins on the Antarctic Peninsula. Polar Biology, 1-8.