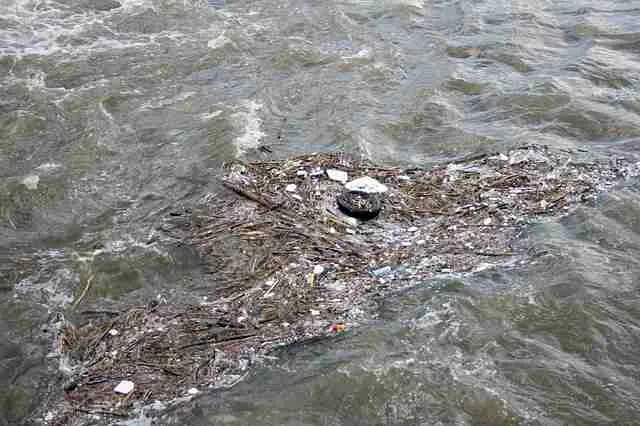 Penguins Wrapped in Plastic
Every day we encounter more and more animals affected by our plastic consumption and penguins are not the exception. Can we do something to stop it?
How much plastic do these penguins face?
An overview of the problem
Plastic found in our oceans comes mostly from land based sources (80%), with only 20% from marine sources. Half of the latter are mostly abandoned fishing gear: fishing nets, lines and parts from abandoned vessels (10% of total plastic)¹.
Plastic from land sources reaches the ocean mainly through rivers and, in fact, the 20 most polluting rivers are in Asia. However, not all rubbish is exclusively produced in Asia. This is because high income countries sell non-recycled plastic to low income countries, which usually have poor managing systems¹. Thus, it is likely that the plastic entering the ocean from rivers comes from everywhere in the world.
Since plastic can float, driven by oceanic currents and the wind, islands of floating plastic are concentrated in some latitudes with more frequency than in others. So, although less people live in coastal areas in the southern hemisphere, there is a lot of plastic concentrated in the southern oceans¹, putting penguins at a high risk of contact with plastic.
Examples of the plastic trash and debris we have collected during our conservation and habitat rehabilitation projects.
How does plastic in the ocean affect penguins?
Why exactly is plastic bad for penguins?
Penguins can interact with plastic in three ways: by entanglement, by directly eating it or by indirect ingestion of other organisms that have consumed microplastics2. Microplastics are produced from the breakdown of bigger pieces of plastic, which end up ingested by small organisms and transferred along food chains2.
Tangled in a web of plastic: Approximately 36% of seabird species have been found entangled in plastic litter. Most of the time, fishing gear incorrectly disposed of can be blamed, accounting for 83% of bird entanglements (although it is hard to differentiate the losses due to bycatch)3.
Unhealthy food: Fortunately, penguins seem to be eating less plastic than other seabirds of their same size, but they are still doing it4. Penguins could mistake floating plastic as their favorite food items. Plastic bags might look like jellyfish and floating plastics like fish.
Moreover, plastic floating over months in the ocean releases a volatile compound (DMS) that smells like food, confusing the olfactory senses of birds5, although presently there is limited knowledge of how much this is true for every species6. In any case, several species of penguins that have been found beach-washed, contained significant amounts of plastic in their intestinal tract7. Whether this ingestion caused the stranding events is still unknown.
The invisible food: Microplastics can contain chemicals and contaminants that interfere with biological processes in animals2. The exact mechanisms that affect animals are still debated, but the presence of microplastics is ubiquitous worldwide in aquatic environments.
What can we do to stop this threat of plastic to penguins?
What can we do to help?
Heartbreaking photos of our loved seabirds eating plastic leave us wondering if there is anything that we can do. The answer is yes! We can chose to not let plastic win and take individual actions to help our birds.
Beware of what kind of fish you buy and find out how it was caught. Some fish are caught with more sustainable practices than others. Avoid eating fish that were caught with dubious high-impact practices to send a message (i.e. we do not buy bycatch!). Follow the actions of your local government regarding fishing practices and express your opinion. This will help fish and penguins!
Do not rely on recycling. Remember that many countries are doing their best to recycle as much as they can, but these efforts are still far away from efficiency, and most countries are doing it poorly.
Avoid single use plastic. Analyze every item that goes in your shopping bag and items of your daily routine. Do we really need a daily disposable coffee container? Do we need tomatoes wrapped in plastic?
Look for alternative options e.g. buy loose tea instead of individually packed tea bags, replace your old shampoo bottle for a shampoo bar, let ear buds be a thing of the past, etc. See some of the great ideas in this blog: Go Green: Eco-Friendly Products We Should All Be Using
It might feel like one person will not make a difference, but millions of people changing their habits for sure will be noticed. Remember that we can make a difference in the future of our seabirds and our beloved penguins.
Thoughts about the unfortunate results of plastic/litter? Any steps that you will take? Love hearing your thoughts.
Also, read more about penguins in our other blogs:
1. Ritchie H. & Roser M. (2018) – "Plastic Pollution". Published online at OurWorldInData.org. Retrieved from: 'https://ourworldindata.org/plastic-pollution' [Online Resource]
2. Avio, C. G., Gorbi, S., & Regoli, F. (2017). Plastics and microplastics in the oceans: From emerging pollutants to emerged threat. Marine environmental research, 128, 2-11.
3. Ryan, P. G. (2018). Entanglement of birds in plastics and other synthetic materials. Marine pollution bulletin, 135, 159-164.
4. Wilcox, C., Van Sebille, E., & Hardesty, B. D. (2015). Threat of plastic pollution to seabirds is global, pervasive, and increasing. Proceedings of the National Academy of Sciences, 112(38), 11899-11904.
5. Savoca, M. S., Wohlfeil, M. E., Ebeler, S. E., & Nevitt, G. A. (2016). Marine plastic debris emits a keystone infochemical for olfactory foraging seabirds. Science advances, 2(11), e1600395.
6. Dell'Ariccia, G., Phillips, R. A., Van Franeker, J. A., Gaidet, N., Catry, P., Granadeiro, J. P., … & Bonadonna, F. (2017). Comment on "Marine plastic debris emits a keystone infochemical for olfactory foraging seabirds" by Savoca et al. Science advances, 3(6), e1700526.
7. Pinto, M. B., Siciliano, S., & Di Beneditto, A. P. M. (2007). Stomach contents of the Magellanic penguin Spheniscus magellanicus from the northern distribution limit on the Atlantic coast of Brazil. Marine Ornithology, 35, 77-78.